Phnom Penh Travel Guide
Why? Its recent history has left the Cambodian capital in a sorry state, but those who travel to Phnom Penh will find that its post-war infrastructure is slowly recovering and the city is regaining a glimmer of its former reputation as the 'Paris of the East'. The wide avenues, parks along the riverfront, cafes and colonial architecture are worth enjoying as one absorbs the local colour and culture on a Phnom Penh holiday.
When? It is best to avoid travel to Phnom Penh during the heavy rains and strong winds of the monsoon season, between June and October, and during the hottest month of the year, which is April. The tropical climate means the city is hot and humid all year round, but temperatures are more bearable between November and January, making this the best time to holiday anywhere in Cambodia.
Who for? Those who are shocked by rubbish piled in streets, and put off by beggars accosting them on crowded pavements, are not likely to enjoy a holiday in Phnom Penh. However, anyone who is keen to see and experience the charms of one of Asia's greatest cities, and enjoys the bustle and excitement of travel off the beaten path, will love exploring Cambodia's capital.
More Info: Find out all there is to see and do during a Phnom Penh holiday in our informative travel guide, which also contains details of how to get around the city.
---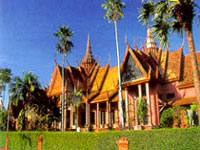 National Museum ©
Legend has it that in 1372, a local widow named Penh discovered four Buddha statues that had been washed up by the waters from the Mekong River. She saw them as bearers of good fortune and erected a temple on the hill to house them, and so the city grew around this structure, known as the Hill of Penh (Phnom Penh).
Once considered to be the loveliest of Indochina's French-built cities, this untidy capital sprawls at the confluence of the Mekong, Bassac and Tonlé Sap Rivers. Now, concrete buildings in need of repair, unsealed roads riddled with potholes, and a confusion of boulevards crammed with traffic, all make for uninviting first impressions of the city. However, upon investigation traces of the Khmer and colonial eras can be found in the little details, redeeming those first hasty conclusions. The heart of the city, where French villas and street-side cafes perch along tree-lined boulevards and the occasional majestic Khmer building catches the eye, is still very appealing.
Phnom Penh has a number of Wats (temple-monasteries), museums and other places of interest in and around the city, as well as sunset cruises on the Mekong and Tonlé Sap Rivers, and a bustling market place. There has also been a recent boom of new hotels, restaurants, bars and nightclubs sprouting up through the city and the nightlife promises fun and excitement.
Become our Phnom Penh Travel Expert
We are looking for contributors for our Phnom Penh travel guide. If you are a local, a regular traveller to Phnom Penh or a travel professional with time to contribute and answer occasional forum questions, please contact us.