Phnom Penh Travel Guide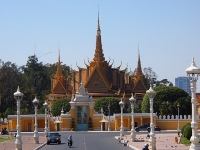 Royal Palace, Phnom Penh © Paul Arps
Legend has it that the city of Phnom Penh, the 'Pearl of the Orient', was founded in 1372 by a local widow named Penh. It is said that she discovered four Buddha statues that had been washed up by the waters from the Mekong River and erected a temple on the hill to house them, believing that their arrival was a sign of great luck and prosperity to come. And so the city grew around this structure, becoming known as the Hill of Penh (Phnom Penh).
The loveliest of Indochina's French-built cities in its heyday, this rather untidy capital sprawls at the confluence of the Mekong, Bassac, and Tonlé Sap Rivers. Now, the colonial charm stands in contrast to the modern concrete buildings and heavy traffic, but upon investigation intriguing traces of the Khmer and French eras can still be. The heart of the city, old French villas and street-side cafes perch along tree-lined boulevards and the occasional majestic Khmer building catch the eye.
Phnom Penh is home to a number of Wats (temple-monasteries), museums, sunset cruises on the Mekong and Tonlé Sap Rivers, and a bustling market place. The city is known for having a bustling nightlife, with a proliferation of cheap and cheerful bars. The cafe culture and tasty Cambodian cuisine also ensure that foodies are well-catered for. There has been a recent boom in tourism development, with new hotels, restaurants, bars, and nightclubs springing up to cater for Cambodia's growing popularity with travellers, and the city is increasingly seen as a worthy travel destination in itself.
Become our Phnom Penh Travel Expert
We are looking for contributors for our Phnom Penh travel guide. If you are a local, a regular traveller to Phnom Penh or a travel professional with time to contribute and answer occasional forum questions, please contact us.