Siem Reap Travel Guide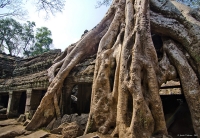 Ta Phrom Temple, Siem Reap © Justin Vidamo
Siem Reap lies on the northern shores of the Tonle Sap Lake. It's the main access city for Angkor's magnificent temples, and a popular launching pad for further travel into Cambodia and Thailand. Attractions include, markets, craft shops, museums, and Apsara dance performances.
The Temple of Angkor Wat is Siem Reap's most famous feature. Situated just outside the city centre, the UNESCO World Heritage Site dates from the 12th century, and is one of the largest religious monuments in the world. Within the city, the Angkor National Museum provides useful cultural and historical background for the Angkor Temples and the ancient Khmer civilisation. The Aki Ra Landmine Museum is also worthwhile. It gives tourists an understanding of the ongoing war Cambodia is fighting against these weapons.
Siem Reap has budget and luxury guesthouses, as well as many bars and restaurants. With so much in the way of amenities and attractions, the city is a great base from which to venture into this fascinating country.
Visitors will find silk farms, rice-paddies, and fishing villages in the surrounding countryside, as well as a bird sanctuary near Tonle Sap Lake - one of Asia's largest freshwater lakes. The area is home to charming villages on stilts, built to accommodate monsoon flooding.
Become our Siem Reap Travel Expert
We are looking for contributors for our Siem Reap travel guide. If you are a local, a regular traveller to Siem Reap or a travel professional with time to contribute and answer occasional forum questions, please contact us.