Sal Travel Guide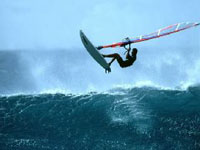 Windsurfing at Santa Maria © www.caboverde.com
Sal is the liveliest and most developed of the Islands. More than half of the tourists in Cape Verde make the trip to Sal to enjoy the crystal clear waters lapping long stretches of white sandy beach, including water sports enthusiasts and holidaymakers who make the most of the rapidly developing hotels and resorts.
The town of Santa Maria is home to the most popular resorts in Cape Verde. A former fishing village, the streets are lined with pastel-painted buildings that are more likely to host a souvenir shop, bar, or restaurant than anything else. Santa Maria has some of the best beaches in Cape Verde; they stretch for five miles (8km) and are popular for windsurfing, fishing, and scuba diving.
Although Santa Maria is the most popular town in Sal, there are others worth visiting. Near the international airport is Espargos, where shops, bars and restaurants do good business and the strains of live music fill the air. The island's main port, Palmeira, is a working fishing harbour and import station, but is currently improving its tourist infrastructure in line with the rest of the island. Sal's landscape is unexciting, being flat and arid, but there are some interesting features to visit including the salt lakes inside the extinct volcano crater at Pedra de Lume; Sal is also home to Cape Verde's best golf resorts. Tourists often enjoy day trips to the nearby island of Boavista, known for its sand dunes, by catamaran.
Become our Sal Travel Expert
We are looking for contributors for our Sal travel guide. If you are a local, a regular traveller to Sal or a travel professional with time to contribute and answer occasional forum questions, please contact us.