George Town Travel Guide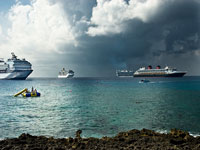 Cruise liners in George Town © flickrized
A small town with a focus on big business, George Town is a pleasant place to visit on any holiday in the Cayman Islands. The city centre is well-planned and has a number of shops and restaurants worth visiting, and a few attractions of its own: The National Museum, situated in the Old Courts building, the island's oldest building, exhibits the country's fascinating cultural and natural history and the resourceful, independent nature of the seafaring society; and the National Gallery exhibits works by local and international artists.
George Town's most popular attractions, however, are its stunning natural environments on Grand Cayman. Boatswain's Beach, the sparkling Seven Mile Beach, and the scenic Mastic Hiking Trail are all within a few miles of the town.
Though usually quiet, George Town is one of the most popular cruise destinations in the Caribbean and comes alive on the two or three days a week that a cruise ship docks, when it is densely packed with tourists.
Become our George Town Travel Expert
We are looking for contributors for our George Town travel guide. If you are a local, a regular traveller to George Town or a travel professional with time to contribute and answer occasional forum questions, please contact us.