Guernsey Travel Guide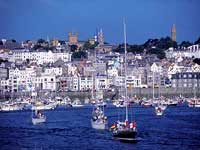 St Peter Port ©
The second largest of the Channel Islands, Guernsey is the most cosmopolitan, its worldliness perhaps stemming partly from the fact that the internationally acclaimed French novelist Victor Hugo made his home here after being exiled from his homeland, and wrote Les Misérables at his beloved Hauteville House. Renoir also painted here.
Today Guernsey is a magnet for beach and watersports enthusiasts. The island has 27 fine beaches varying from rocky coves in the south to long sandy beaches on the west coast, where the sunsets over the Atlantic are superb. The Portelet, L'Eree, Port Soif and Pembroke beaches are considered among the best in the United Kingdom.
Away from the sea (but not too far away, because it is difficult to ignore the ocean on this tiny island) there are several attractions to explore, particularly in the historic capital, St Peter Port. This is the oldest settlement in the Channel Islands, its patchwork of roofs rising from the harbour topping Roman arches, coloured granite buildings and narrow medieval alleyways.
If the fact that the £1 note is still in circulation in Guernsey does not take you back in time, then one of the guided 'medieval' walks around St Peter Port undoubtedly will. Low-duty shopping is also a fun occupation in the town, and wining and dining in the cafes, bistros and restaurants is pure gastronomic pleasure.
The most popular event of the year, culled from a full calendar of fun and frolics ranging from tennis tournaments to dragon boat races, is the annual week-long St Peter Port Carnival, held in July, when the town's quayside becomes the backdrop for musicians and street entertainers and the wharf turns into an alfresco party.
Just a short boat ride from St Peter Port is the island of Herm, restricted in accommodation facilities and therefore usually favoured as a day-trip from Guernsey by visitors wishing to take time out from the 21st century on the little isle's tranquil beaches and in the tiny village.
Become our Guernsey Travel Expert
We are looking for contributors for our Guernsey travel guide. If you are a local, a regular traveller to Guernsey or a travel professional with time to contribute and answer occasional forum questions, please contact us.