Chilean Patagonia Travel Guide
Chilean Patagonia travel Forum
---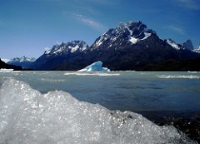 Chilean Patagonia © Francesco Paroni Sterbini
The fjords, glaciers and magnificent scenery of the Patagonian region are what attract visitors to this vast wilderness territory. The north, or Aisén region, can be likened to the Inside Passage of Alaska or New Zealand's Fjordland on South Island with its dramatic ice and waterway scenery. Southern Patagonia or Magallanes, is rugged, mountainous and stormy.
It was nearly 500 years ago that Ferdinand Magellan guided four ships through the treacherous passages that are still today thought of as the End of the World. Today Patagonia is inhabited by nearly 2 million people, but is still almost entirely made up of pristine and untouched nature.
The gravel highway known as the Camino Austral is the access point to one of the world's last great expanses of wilderness that makes up northern Patagonia. It begins at the port of Chaitén and continues to the capital of the region, Coihaique, and both are good bases for trips in the area. The most popular attraction in this region, despite the difficulty and expense of getting here, is the two million-hectare (four million-acre), glacier-filled Parque Nacional Laguna San Rafael, which has some of the world's most spectacular mountain and fjord scenery.
Magallanes features glacially sculpted mountains and harsh landscapes with Torres del Paine National Park the most famous of the southern region's protected areas. Further south is the town of Puerto Natales, terminus of the extraordinary ferry trip through the fjords from Puerto Montt, and exploration base for the region. Beyond the continent lies the harsh and stormy archipelago of Tierra del Fuego, stretching further south, and closer to Antarctica, than any other inhabited place.
Become our Chilean Patagonia Travel Expert
We are looking for contributors for our Chilean Patagonia travel guide. If you are a local, a regular traveller to Chilean Patagonia or a travel professional with time to contribute and answer occasional forum questions, please contact us.