Lake District Travel Guide
Lake District travel Forum
---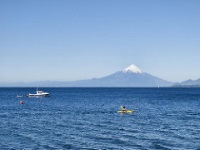 Lake District © Dan Lundberg
Chile's Lake District, located at the extreme south of the country, is a spectacular region of glacially formed lakes, snow-capped volcanic mountains and forests: one of pristine beauty and picture-perfect scenery. Home to the Mapuche people, the region is also sprinkled with picturesque towns that have a distinctly European elegance. For three centuries the Mapuche defended their land against the Spanish, but shortly after Chilean Independence they relinquished their territory and settlers flocked to the area, attracted by the rich volcanic soil among lush forests and lakes.
Today the area attracts tourists from across the world to marvel at the scenery, climb the volcanoes, hike in the National Parks and fish in the lakes, stopping off at various towns along the way. Temuco is the gateway to the Lake District in the heart of the Mapuche homeland and is still a market town for traditional Mapuche crafts in silver and wood. The pretty lakeside resorts of Pucón and Villarica sit at either end of Lake Villarica, dominated by the smouldering Villarica volcano.
Situated at the meeting of two rivers, Valdivia is an appealing town with its Spanish colonial history and subtle German architecture from the European influx, and lively riverside market. Osorno is another town with a strong German influence, particularly evident in its dairy farming and manufacturing culture. It is also the base for exploring Chile's most popular national park, Parque Nacional Puyehue, which boasts superb volcanic scenery, abundant wildlife, waterfalls and nature trails. The pastoral landscape, German style houses and lakeside hamlets are all attributed to the 19th-century immigrants.
The capital of the Lake District, Puerto Montt, is the embarkation point for stunning cruises to the fjords of the glacial Chilean coastline and is the gateway to the island of Chiloé and Chilean Patagonia. Its architecture is Middle European with unique wooden designs and predominantly high-pitched roofs and ornate balconies. Many of the older, traditional houses can be spotted with their distinct patchwork of weather resistant shingles, made from the Alcerce Tree. Puerto Montt has a marvellous craft market, a good place to buy Chiloén handicrafts, and the outstanding seafood is not to be missed. Well worth a visit, too, is the local cathedral, with its large rosary made from fishnet floats above the confessional.
Each destination in the Lake District offers good accommodation, dining and shopping, and opportunities for both sport and relaxation are limitless. It is an enticing region combining outdoor activity with peaceful sunsets and luxurious comforts.
Become our Lake District Travel Expert
We are looking for contributors for our Lake District travel guide. If you are a local, a regular traveller to Lake District or a travel professional with time to contribute and answer occasional forum questions, please contact us.