San Pedro De Atacama Travel Guide
San Pedro De Atacama travel Forum
---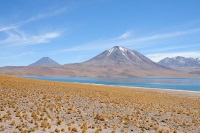 San Pedro De Atacama © Alejandro Rodriguez Clemente
The desert oasis village of San Pedro de Atacama, having been continuously inhabited for 10,000 years, was prized by the Inca and Tihuanaco empires for its mineral wealth and importance as a stopover on the caravan trade routes. It sits at the northern end of the Salar de Atacama, a vast salt lake that is home to a variety of bird life.
Today San Pedro de Atacama is one of the major travel destinations of northern Chile and an attractive, albeit touristy village. A great base from which to explore the astounding natural beauty of the region, the village has few real attractions of its own. There is a small 17th-century church built with local materials and a small well-organised museum with a good gift shop that sells the only truly locally-produced crafts in the town. There are a number of restaurants and bars in town, however local restrictions on liquor sales see the nightlife come to a halt at 11:30pm on weekdays and 2am on weekends.
There is plenty to see and do around San Pedro, however. The town is close to archaeological sites, the bird life of the salt flats and Valle de la Luna, and lies within easy reach of the nearby Lagunas Altiplanicas and the El Tatio Geysers. Outdoor activities like mountain climbing and sandboarding are popular, or for a relaxing time the hot springs of Puritama are not far away.
Become our San Pedro De Atacama Travel Expert
We are looking for contributors for our San Pedro De Atacama travel guide. If you are a local, a regular traveller to San Pedro De Atacama or a travel professional with time to contribute and answer occasional forum questions, please contact us.