Santiago Travel Guide
Why? A modern metropolis mingled with the breath of the past, a holiday in Santiago is perhaps not as exciting as a visit to one of the other major South American cities, but it is nevertheless a city with distinctive personality, great sites, colourful markets, lively street life and an awesome museum devoted to pre-Columbian exhibits. Many also travel to Santiago to use this city as a base for outdoor adventures, and excursions to wineries, national parks and ski resorts.
When? The best time to travel to Santiago is during spring or autumn, when the weather is pleasant. During the height of summer (December to March) the locals head for the hills to avoid the heat and enjoy their annual vacations, so this is also a good time to holiday in Santiago if you prefer to avoid crowds.
Who for? Tourists exploring South America should not miss out on Santiago, which offers plenty to see and experience on strolls through the city streets. Anyone who enjoys the great outdoors should travel to Santiago, with its ragged mountain backdrop, because it is an ideal base for accessing the recreational and adventure activities of the surrounding countryside.
More Info: Our Santiago travel guide is the ideal resource for planning a Santiago holiday. The guide is packed with information, from entry requirements and communications, to advice on how to get around the city and details of local attractions.
---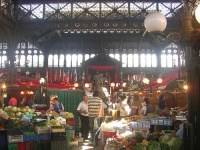 Mercado Central © peregrine blue
The towering Andes provide an awesome backdrop for the sprawling Chilean metropolis of Santiago. The population of this flat urban stage, that spreads out from a compact city centre, numbers more than five million. Despite this, a small town atmosphere prevails downtown where friends will more than likely meet and greet each other in the overcrowded streets and bustling walkways of the main commercial district.
The city is a curious mix of skyscrapers and 19th-century European architecture, with some Spanish adobe bungalows thrown in for good measure. Threaded through this architectural tapestry are numerous green areas, busy markets, and quaint old squares. Street life is vibrant, and adding to the vibe is the presence of numerous chic sidewalk cafes, outside of which traditionally dressed women hawk their wares hoping to catch the eye of the tourists. There are also some small but impressive museums, several modern hotels, excellent restaurants and some good shopping opportunities in the Ahumada and Huerfanos pedestrian malls.
Santiago exudes an aura of health and wealth in the inner city and fashionable suburbs, despite the shabby shantytowns stretching out from behind the skyscraper facade. The city is also one of the 10 most severely polluted cities in the world, thanks to its position in a bowl of mountains. It is nevertheless an excellent base in which to spend a relaxing few days taking excursions to the wineries, national parks and ski areas, which are all within easy reach of the city.
Become our Santiago Travel Expert
We are looking for contributors for our Santiago travel guide. If you are a local, a regular traveller to Santiago or a travel professional with time to contribute and answer occasional forum questions, please contact us.
iExplore designs made-to-order, privately-guided adventure tours to Chile and over 200 other world wonders. Come Back Different!
ADVERTISEMENT
---
Intrepid Travel, one of the world's leading suppliers of small group adventures focused on getting off the beaten track, interacting with the locals and having real life experiences throughout Chile.
ADVERTISEMENT
---