Guilin Travel Guide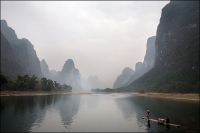 Guilin © Dmitry Sumin
Guilin is a small city in southern China when compared to bustling metropolises like Beijing or Shanghai, but it is one of the country's most visited. It's name means 'forest of Sweet Osmanthus' due to the large number of Osmanthus trees in the area. The distinctive limestone karst hills provide a dramatic backdrop for the city of 1.3 million people, making it a favourite destination for avid photographers.
The hills were formed in tectonic shifts about 200 million years ago, and limestone sediments thrust up from the sea to form the unusual hills, caves, and stone forests which are so distinctive of Guilin.
Guilin's two major lakes, Banyan Lake (Rong Hu) and Cedar Lake (Shan Hu) offer scenic boat trips to view the hills, along with pagodas, bridges and centuries-old banyan trees. They are connected via waterway to other lakes in Guilin as well. Another popular boat tour goes along the Li River to the town of Yangshuo.
Guilin is a tourist-oriented city, with all the amenities you'd expect from one, including comprehensive public transport, local and western restaurants, and overpriced souvenirs. The city is popular with local tourists as well, in part because of the clean air but also because the scenery is so splendid.
Become our Guilin Travel Expert
We are looking for contributors for our Guilin travel guide. If you are a local, a regular traveller to Guilin or a travel professional with time to contribute and answer occasional forum questions, please contact us.