Shanghai Travel Guide
Why? Shanghai, being a cosmopolitan blend of east and west, old and new, is a great introduction to China for westerners who choose a China holiday. Travel to Shanghai to see giant pandas in the zoo, stroll the Bund to admire the gracious art deco buildings, marvel at the skyscrapers of 21st century Shanghai in Pudong and enjoy a vegetarian repast in the peace of the Jade Buddha Temple.
When? Summers are extremely hot, but this is high season for a holiday in Shanghai when the city is packed with tourists. Spring and autumn may be less crowded, alternative seasons for travel to Shanghai, but it is likely to be wet. Times to avoid a Shanghai holiday are in winter, when it is bitterly cold, and the Chinese New Year when most businesses close down for the festivities.
Who for? For first-timers visiting China, a Shanghai holiday is ideal, for the city's blend of traditional and modern lifestyle allows tourists to enjoy the best of both worlds. The city's different neighbourhoods are best explored as a pedestrian, so those prepared to do a lot of walking will get the most from a holiday in Shanghai.
More Info: To find your way around this huge, busy city make sure you consult our Shanghai travel guide, which you can print out and take with you on your Shanghai holiday. The guide contains details of major attractions, excursions and events and explains how to get around the city, as well as featuring a comprehensive Basics section that deals with entry requirements, communications, health and safety, and the like.
---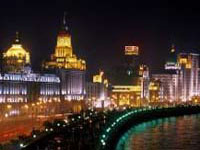 The Bund, Shanghai ©
Shanghai, home to almost 12 million people, is China's largest city and is situated in the centre of the coastline where the Yangtze River flows through its delta into the East China Sea. The name of the city means 'on the sea', and most of the city (including Chongming Island) is only a few metres above sea level, criss-crossed by a maze of natural waterways of the Taihu drainage basin.
Shanghai is China's industrial and commercial capital. It is a busy seaport, and a science and technology centre, and has a vibrant business community. Visitors don't generally come to Shanghai for its scenic beauty or history (the city is too young to have cultivated a classical heritage), but those who arrive on business can find plenty of off-duty entertainment and relaxation. Just walking the busy streets and soaking up the vibrant atmosphere is worthwhile, and there are some temples and gardens to visit along with an excellent museum.
This great cosmopolitan metropolis has a colourful colonial background which has had the edge rubbed off of it during half a century of Communist rule. It was the first Chinese coastal port to be opened to Western trade in 1843, resulting in an influx of British, French and American diplomats and business interests, each of which established their own independent enclaves. In the 1920s and 30s Shanghai was regarded as a glamorous, decadent and fashionable place to visit. It all ended with World War II and the coming to power of the Communist party, but since the early 1990s a dramatic re-building programme has been underway which is aimed at putting Shanghai back on the map as a major international finance and trade centre. The World Financial Centre, completed in 2008, is one of the tallest buildings of them all and the world's tallest hotel.
Become our Shanghai Travel Expert
We are looking for contributors for our Shanghai travel guide. If you are a local, a regular traveller to Shanghai or a travel professional with time to contribute and answer occasional forum questions, please contact us.