Bogota Travel Guide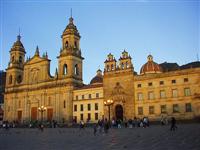 Primada Cathedral © Kinori
Bogota is most visitors' first experience of Colombia, and in many ways this city encapsulates the attraction, history and modern reinvention of the continent's most tarnished tourism jewel. Despite modest tourist numbers, Bogota is actually South America's fourth largest city, and Colombia's financial and industrial centre. Founded in 1538, the city occupies a glorious position 8,500 feet (2,600m) above sea level, in sight of the Cordillera mountain range.
In the 1980s, Bogota's longstanding reputation for cosmopolitan life gave way to the corruption and violence of the narco-traffic era. It is only in recent years that Bogota has regained its appeal and now ranks as one of the safest cities on the continent, thanks to modern urban planning and a huge emphasis on urban security.
The best of the city is in a condensed area near the centre. La Candelaria is famed for its colonial architecture, culture and arts. The residential portion's distinctive wooden balconies and clay tiled roofs are very photogenic, while the many cafes, churches and museums reward exploration. The Plaza del Bolivar is ringed with handsome buildings and sites of interest, including the Palace of Justice, Capitol Building and Arzobispal Palace. The nearby Museo del Oro is a fabulous treasure trove of antique gold.
Bogota has a hugely vibrant modern side, too. Its gourmet scene and nightclubs are cutting edge, while boutique shops and design centres seem to open weekly. There is little doubt that Bogota has decisively shed its seedy image to become an essential stop on any South American itinerary.
Become our Bogota Travel Expert
We are looking for contributors for our Bogota travel guide. If you are a local, a regular traveller to Bogota or a travel professional with time to contribute and answer occasional forum questions, please contact us.
Tour operator G.A.P Adventures has for the past 14 years specialised in unique, small group, grassroots adventure travel experiences to the world's most wild places, going off the beaten track into the heart of the destination. G.A.P Adventures offers several expeditions to Colombia and her surrounds.
ADVERTISEMENT
---
iExplore designs made-to-order, privately-guided adventure tours to Colombia and over 200 other world wonders. Come Back Different!
ADVERTISEMENT
---