Cartagena Travel Guide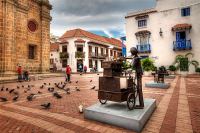 Cartagena Square © Pedro Szekely
Visually, Cartagena is a paradise, with lush bougainvillea winding its way through a maze of cobblestone alleys lined with brightly-painted buildings. A UNESCO World Heritage Site, the city is a popular tourist destination for both Colombian and international holidaymakers. Cartagena's history goes back to 4000 BC, and today its skyline is a blend of modern skyscrapers and intricate, colonial facades.
Cartagena's colourful past is evident in the many historical attractions in the city. Most are located in the walled Old Town, which contains beautiful examples of colonial architecture, excellent shopping, and restaurants. Neighbourhoods like Centro, San Diego, Getsemaní, and the more modern La Matuna all have unique personalities that delight visitors. Old Town is also home to the labyrinthine Bazurto Market, which is more of an opportunity to glimpse the everyday life of a Cartagenan than stock up on souvenirs.
The Palace of the Inquisition, the dungeons of Las Bovedas and the Cartagena Gold Museum are good places to get a feel for Cartagena's history, while the San Pedro Claver Convent and the Santo Domingo Church offer their own perspective. Additionally, a number of stately mansions and fortresses (including the impressive Castillo de San Felipe) also dot the area.
The most popular attractions in Cartagena are the sparkling beaches. However, the best beaches in Cartagena are to be found a little way out of the city. Popular resorts offer watersports, boat tours, and other activities as well as a selection of restaurants and bars. Ferries are also available for excursions to nearby islands, including the Islas del Rosario.
Become our Cartagena Travel Expert
We are looking for contributors for our Cartagena travel guide. If you are a local, a regular traveller to Cartagena or a travel professional with time to contribute and answer occasional forum questions, please contact us.
Tour operator G.A.P Adventures has for the past 14 years specialised in unique, small group, grassroots adventure travel experiences to the world's most wild places, going off the beaten track into the heart of the destination. G.A.P Adventures offers several expeditions to Colombia and her surrounds.
ADVERTISEMENT
---
iExplore designs made-to-order, privately-guided adventure tours to Colombia and over 200 other world wonders. Come Back Different!
ADVERTISEMENT
---