Denver Travel Guide
Why? Travel to Denver, Middle America's hub, where the Great Plains meld into an urban sprawl at the edge of the Rocky Mountains, for a 'mile high' experience. A holiday in Denver offers all the modern tourist amenities and attractions to fill your time with the bonus of plenty of outdoor recreation opportunities just beyond the city limits.
When? The weather is not a good yardstick for planning when to holiday in Denver, because it is notoriously unpredictable. The best time to travel to Denver, though, especially for lovers of the outdoors, is during late Spring or early Autumn, when there are plenty of sunny days and, consequently, a number of outdoor events. Winter sports enthusiasts travel to Denver for the ski resorts during Winter.
Who for? People of most ages and diverse interests will find something to enjoy during a Denver holiday. The city is well-geared for families, with several educational attractions and a fun 'Six Flags' park in the downtown area. Culture vultures will thrive on a full programme of musical and arts events.
More Info: Our informative Denver travel guide is updated daily and includes all the information you need to plan a memorable Denver holiday.
---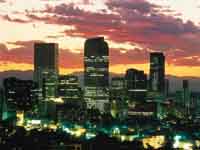 Denver skyline © Denver Metro Convention and Visitors Bureau
Although it is literally a 'Mile High City', situated one mile (1.6km) above sea level, Denver is flat and sprawling, overwhelmed by the backdrop of the majestic peaks of the Rocky Mountains.
It was founded as a gold mining camp in 1859, and at the centre of the Old West it was filled with cowboys, gamblers, saloons, gunslingers, Native Americans, and crooked characters such as the infamous Jefferson 'Soapy' Smith. Although very little gold was discovered, a city was laid out and the name Denver attributed it.
Having since shed its cow-town image and evidence of its western past, it has developed into a modern city with wonderful museums, historic architecture, cultural attractions, shopping venues and a world-class airport. It has more than 200 parks and tree-lined boulevards and a completely refurbished lower downtown area (LoDo to the locals), where blocks of old Victorian buildings and warehouses have been carefully restored to house restaurants, galleries, antique shops and jazz clubs. Historic Larimer Square is the heart of the dining and nightlife scene. Denver brews more beer than any other city in America and most of it can be sampled in LoDo where the city's brewpubs proliferate.
Most residents are active nature lovers who take advantage of the city's setting, the pleasant climate and unlimited outdoor adventures just minutes from the centre, including skiing, hiking, mountain biking and fishing. Tourism focuses on its natural setting and the outdoors, and as such it is a major destination for tourists heading into the mountains. Visitors to Denver will be pleasantly surprised by its welcoming and friendly nature.
Become our Denver Travel Expert
We are looking for contributors for our Denver travel guide. If you are a local, a regular traveller to Denver or a travel professional with time to contribute and answer occasional forum questions, please contact us.