New Haven Travel Guide
Why? New Haven is a vibrant mixture of lofty academia, natural beauty, historic charm and funky student life. Its music and arts scene packs in more diversity and greater quality than perhaps any other city of its size.
When? New Haven summers are warm, and the New Haven Green comes alive in the evenings with the Music on the Green concert series. This is also the best season to enjoy First Thursdays, when the shops and restaurants - many of which are regularly acclaimed by the New York Times - of the historic district stay open late. Autumn, however, is the 'foliage season' in New England, and fresh apple cider, pumpkins and cranberries hit the farm stands.
Who for? Young visitors to New Haven will love the lively student culture; they can dance until dawn in the Crown Street club district and relax the next day at one of the city's many coffeehouses. Less adventurous visitors can enjoy upscale shopping and fine dining, watch a free performance of the Elm Shakespeare Company in Edgerton Park or visit the Peabody Museum of Natural History.
More Info: Our New Haven travel guide is updated regularly to provide current information on all aspects of a holiday in New Haven, from the top attractions and excursions to how to get around.
---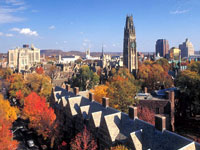 Yale University ©
New Haven is a mid-sized city, but its distinguished reputation is well-known across the country. For Americans, 'New Haven' connotes intellectual brilliance, colonial tradition and, sometimes, controversy. It is the home of prestigious Yale University, the charter for which was granted in 1701. Since then, relations between the 'town and gown' have alternated between cooperation and confrontation, though over the past few years, a mutual recognition of interdependence and potential has been growing. In fact, the revitalization of downtown New Haven owes its success to the initiatives of both the local government as well as Yale's own property management program.
Today, New Haven is the second-largest city in Connecticut, but it remains steeped in history and elegance. It has more National Historic Landmarks than anywhere else in Connecticut. Walking along tree-lined Wooster Square, historic New Haven Green and the many leafy downtown streets, it is easy to understand how the 'Elm City' got its nickname. After visitors have taken in the beautiful vista of Long Island Sound and enjoyed hiking, biking and canoeing in the public parklands surrounding the city, New Haven's abundance of theatres, museums, music venues, restaurants, shops and nightlife options await. The Chapel Street Historic District buzzes with galleries, boutiques and bistros, and the newly redeveloped Broadway area is a shopper's heaven. The Shubert, Long Wharf and Yale Repertory Theaters are renowned for groundbreaking performances, and the New Haven Symphony Orchestra is the fourth oldest in the country.
No visit to New Haven would be complete, however, without taking part in what, for many, is its most enjoyable tradition. New Haven is the birthplace of the American pizza. Age-old contenders Sally's and Pepe's pizzerias, each with an army of fiercely loyal New Havenites, have been battling for the 'best pie' title for more than 60 years.
Become our New Haven Travel Expert
We are looking for contributors for our New Haven travel guide. If you are a local, a regular traveller to New Haven or a travel professional with time to contribute and answer occasional forum questions, please contact us.