Puerto Limon Travel Guide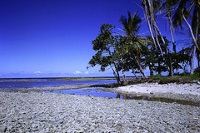 Puerto Limon © Fotorus
At first glance it may appear derelict and rather unsavoury, but this is mainly because Puerto Limon was badly affected by an earthquake in 1991 from which it has never recovered. The friendly, welcoming people of this Caribbean port city, however, are proud of what they still have to offer visiting tourists. It is known not so much for its sights but for its proximity to some of Costa Rica's top natural attractions.
Many cruise liners lay over in the port to allow passengers the chance to take excursions, and independent travellers come here from San Jose, along the scenic Guapiles Highway, to use Puerto Limon as a base for exploring the coast.
It was once a port of some importance, exporting bananas and grain to various parts of the world, but today Puerto Limon is commercially a little bereft, the focus having moved to Moin, a port about four miles (6km) to the north. The city itself, however, still sports some pretty, if run-down, buildings. One of its biggest draws is the market in the centre of town, selling everything from woodcarvings to cashew nut wine.
Just south of the city is the popular and beautiful beach of Playa Bonita, easily accessible by taxi or bus, and inland there are myriad scenic excursions to be made to appreciate the volcanoes, lush valleys, tropical rainforests and national parks.
From Puerto Limon, do-it-yourself tourists or cruise ship passengers can organize trips to ride an aerial tram across the rain forest canopy in the Braulio Carrillo National Park, or travel to Costa Rica's capital, San Jose, passing through exotic scenery en route. The more active can opt for white water rafting on the Reventazon River, or a horseback trek from a nearby ranch through the jungle. One of the most popular outings is a boat trip up the Tortuguero Canal, which runs parallel to the coastline from Puerto Limon to the Nicaraguan border, affording the chance to enjoy some spectacular scenery and get close to a variety of wildlife.
Become our Puerto Limon Travel Expert
We are looking for contributors for our Puerto Limon travel guide. If you are a local, a regular traveller to Puerto Limon or a travel professional with time to contribute and answer occasional forum questions, please contact us.