Dubrovnik Travel Guide
Why? Despite being nearly devastated during Yugoslavia's civil war in the early 90s, Dubrovnik, on Croatia's beautiful Dalmatian coast, has emerged, re-built, as a stunning holiday destination. A holiday in Dubrovnik offers not only magnificent vistas and beaches, washed by turquoise waters, but also a compact, picturesque medieval core, pedestrianised and surrounded by its original city walls, which captures the imagination of its myriad visitors.
When? With its tourist-friendly Mediterranean climate, summer is the most popular time to travel to Dubrovnik, although it can be very hot and humid during the day. Winters are mild, but wet. Spring and autumn are increasingly popular times to visit Dubrovnik due to the pleasant weather, fewer crowds and cheaper prices.
Who for? Most who holiday in Dubrovnik come for the beaches, and find sunny homes for the season in the form of many resort hotels, apartments and villas near the city. The added attraction of the medieval Old City is the icing on the cake for the thousands who travel to Dubrovnik every summer.
More Info: To fully enjoy your Dubrovnik holiday read our detailed Dubrovnik travel guide which lists all there is to do and see in this desirable destination.
---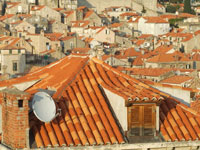 Dubrovnik old city rooftops © Judith Duk
Despite a turbulent history during which it has been occupied and conquered by a succession of its neighbours and European colonial powers, Dubrovnik is now a city at peace, allowing visitors to make the most of its historic architecture, white pebble beaches, and crystal-clear sea. Political upheaval has seldom kept tourists away from this uniquely lovely Adriatic port city; for centuries it has drawn those seeking fine accommodations, excellent cuisine, beautiful surroundings and recreational opportunities. George Bernard Shaw is quoted as describing Dubrovnik as 'heaven on earth'. Having said that, since regaining political peace Dubrovnik has become a tourist hub.
The old town, dating from the 7th century, is on UNESCO's list of World Heritage Sites. Enclosed by city walls built in the 13th century, the buildings represent a cross-section of medieval architectural styles and remain well preserved. Onofrio's Fountain, situated just inside the main entrance to the old city at Pile Gate, is one of Dubrovnik's most famous landmarks and a popular meeting place. The centre of the old town is the Stradun, its main street, which was originally a channel separating an island from the mainland, and was filled in to join two opposite towns into the merged city of Dubrovnik. There are numerous churches, monasteries and museums to explore; the old town also boasts plenty of restaurants, bars and shops; and the coastal belt is awash with marinas, coves and promenades. Most of the hotels and the best beaches are located north west of the old town at Lapad, as well as in Ploce to the north east.
Become our Dubrovnik Travel Expert
We are looking for contributors for our Dubrovnik travel guide. If you are a local, a regular traveller to Dubrovnik or a travel professional with time to contribute and answer occasional forum questions, please contact us.