Split Travel Guide
Why? Split is an excellent base from which to explore Central Dalmatia's exquisite coastline. However, a holiday in Split offers not only beautiful surroundings and easy access to some of Croatia's most popular islands, but also a fascinating old town that is included on UNESCO's World Heritage list, a busy waterfront promenade, and all the amenities of a large city.
When? Croatia's coastal Mediterranean climate means that summer is the most popular time to travel Split, although the off-season months of May and September are a good alternative for pleasant weather and fewer people.
Who for? Those who choose to holiday in Split come for the flourishing beach life in summer, but also to enjoy its unique setting and high-spirited nature.
More Info: Our detailed Split travel guide lists a number of worthwhile excursions from the city, as well as popular attractions Split itself.
---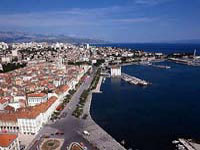 Split © Croatian National Tourist Board
The pretty city of Split has a rich history. Since ancient times it has, in various guises, served as the economic and administrative centre of the beautiful Croatian Adriatic coastal region, today called Dalmatia. The city sits mainly on a peninsula on the eastern part of the island of Ciovo, although it has nowadays spread onto the mainland and encompasses the mouth of the River Cetina. From the 5th to the 2nd century BC Greek colonists settled the mainland and adjacent islands. Later came the Romans, in particular the Emperor Diocletian, who, being of Dalmatian origin, elected to build a huge palace at a spot then called Salona, in the year 303. A town grew up around the palace, and eventually, by the Middle Ages, the city of Split had begun to develop.
The Diocletian's Palace still stands in the very heart of the old part of Split, which charms visitors with its cobbled streets and Roman architecture. The greater Split area is characterised by its lush vegetation and green areas, particularly Marjan Hill on the west of the peninsula with its ancient indigenous forest. The city makes an ideal base from which to explore the islands, beauty spots, and historic villages in central Dalmatia.
Split is also world renowned among seafarers for the quality, and quantity, of its marinas. There are 44 of them in the city area altogether, drawing yachts and catamarans from all over Europe and making it a great cruising destination in the Adriatic.
Become our Split Travel Expert
We are looking for contributors for our Split travel guide. If you are a local, a regular traveller to Split or a travel professional with time to contribute and answer occasional forum questions, please contact us.