Zagreb Travel Guide
Why? Some top-flight art museums and, believe it or not, one of the world's most impressive cemeteries, are among the sights to explore on a holiday in Zagreb, the lively riverside capital of Croatia. The city also has an atmospheric medieval centre, plenty of good souvenir shopping and an increasing number of bustling nightclubs.
When? Summer is the favourite time for a Zagreb holiday when the weather is warm and dry. Surprisingly temperatures reach a peak early in the season with hot spells in late May sometimes hitting 86°F (30°C) and beyond. Winters are very cold and snowy, and autumn is inundated with plenty of rain and fog.
Who for? Cheap flights to Zagreb from Britain and other European cities have made a short holiday in Zagreb a popular option for a city break. Others opt to travel to Zagreb for a look-see en route to Croatia's popular coastal resorts.
More Info: Discover the attractions and excursions to be enjoyed on a Zagreb holiday in our full Zagreb travel guide, which also offers all the basic information for travel to Zagreb.
---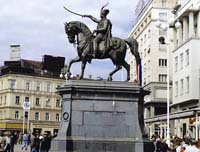 Zagreb © Croatian National Tourist Board
Zagreb, capital of Croatia, is the country's economic centre and gateway to Western Europe. The city is situated on the slopes of Medvednica Mountain, along the banks of the Sava River, in the northern part of Croatia.
The core of Zagreb consists of the Gornji grad (Upper Town) and Donji grad (Lower Town). The Upper Town is home to the well-preserved medieval city, known as Gradec and Kaptol, while the residential area covers the southern slopes of the Medvednica Mountains. Since the 1950s the city has grown appreciably to the south of the Sava River, and the main industrial area is in the southeast.
Besides being a commercial hub Zagreb is a tourist centre, and a popular international conference venue, with a history dating back nearly a thousand years. It is rich in historical monuments, museums and galleries, has modern shops, restaurants, sport and recreation facilities, and a good transport infrastructure. Its attractions are largely historical, ranging from the Palaeolithic Veternica Cave, through the vestiges of Roman culture, to the fascinating medieval old town.
Zagreb is well-situated to explore the picturesque medieval towns of northern Croatia, including Samobor, Vrbovec, and Karlovac. There are also nearby hiking opportunities on Medvednica Mountain, which casts its 3,280 foot (1,000m) shadow over the city.
Become our Zagreb Travel Expert
We are looking for contributors for our Zagreb travel guide. If you are a local, a regular traveller to Zagreb or a travel professional with time to contribute and answer occasional forum questions, please contact us.