Havana Travel Guide
Why? There is nowhere else quite like Cuba's capital, and that is why so many travellers have a holiday in Havana as top of their wish lists. Rather dilapidated and grubby, the energy and enterprise of the locals make up for the dereliction of the Spanish architecture, and the nightlife is second to none.
When? Anytime is a good time to holiday in Havana, although the winter months between December and April are the high season when thousands of northern hemisphere sun-seekers travel to Havana.
Who for? Havana is a great place for anyone who is in pursuit of pleasure. A Havana vacation is for those happy to sip rum cocktails at sunset, eat excellent cuisine, and salsa the night away. Travel to Havana if you enjoy involving yourself in the atmosphere of your destination and be prepared to go with the flow.
More Info: Everything you need to know in order to plan a holiday in Havana is to be found in our Havana travel guide, which has detailed information on attractions, events and excursions as well as valuable hints about currency, safety and entry requirements that you can print out and take with you on your trip to Havana.
---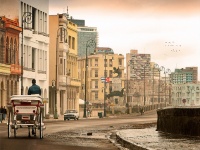 Havana © zedzap
Situated on the north coast of the island, and built around a natural harbour, Havana (La Habana) is one of the most lively and colourful cities in the Caribbean. Much of the city's charm can be found among the narrow, derelict streets packed with crumbling buildings and fascinating people. Every open door and overhanging balcony allows glimpses of rocking chairs and colourful washing, accompanied by strains of music. On the streets Chinese-made bicycles, yellow, egg-shaped coco-taxis and two-humped camello (camel) buses weave among the melee of 1950s Chevy's and Russian Ladas.
The historic old town, Habana Vieja or Colonial Havana, is a UNESCO World Heritage Site, and fast becoming a major tourist destination. The Spanish left behind some superb colonial architecture, and many of the great buildings and grand plazas are being restored to their former glory. Central Havana (Centro Habana) boasts some of the most important museums and architectural highlights, including the Revolution Museum, and the National Capitol, resembling the US Capitol Building in Washington DC. The trendy suburb of Vedado boasts high-rise buildings and modern hotels, and draws locals and visitors alike with its theatres, art galleries, restaurants, cafes, and cabaret shows; however most of the city's sights are in Habana Vieja and Centro Habana. The five-mile (8km) seawall, or malecón, stretches from Vedado to Habana Vieja, and is lined with architectural gems in various states of dilapidation or restoration.
Havana's nightlife will exhaust even the most seasoned partygoer. After dark, nightclubs and bars come alive and the famous rum cocktails flow freely. The city has plenty of cultural entertainment too, and its fair share of monuments, museums and statues. For those travellers needing rest from all this activity, the stunning beaches are only twenty minutes east of the city.
Become our Havana Travel Expert
We are looking for contributors for our Havana travel guide. If you are a local, a regular traveller to Havana or a travel professional with time to contribute and answer occasional forum questions, please contact us.