Larnaca Travel Guide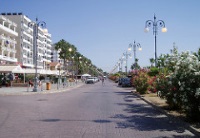 Larnaca © Glen Bowman
Larnaca is the international gateway to Cyprus, thanks to its busy international airport and seaport. It is only Cyprus's third largest coastal city but it is a popular tourist hub. It is one of the oldest continuously inhabited cities in the world, and has plenty of historical sightseeing on offer to complement its deep-blue sea, bright sandy beaches and reliably sunny skies.
The city was called Kition in the days of the Old Testament and the ruins of the ancient city can still be seen. Much of its rich archaeological heritage has been preserved and is showcased in two of its main museums.
In addition to its rich history, the Larnaca region is known as a hotspot for partying on the Mediterranean, and is home to Ayia Napa, one of the most popular resort areas in Cyprus, as well as lively villages like Protaras, Kapparis, and Paralimni.
Away from the action in the towns, the region offers miles of unspoiled wilderness to explore; the Cape Greco peninsula is a government-protected conservation area with dramatic cliffs and abundant indigenous flora and fauna.
Become our Larnaca Travel Expert
We are looking for contributors for our Larnaca travel guide. If you are a local, a regular traveller to Larnaca or a travel professional with time to contribute and answer occasional forum questions, please contact us.