Larnaca Travel Guide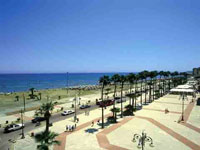 Palm Tree Promenade, Larnaca © Cyprus Tourism Organisation
Larnaca is the international gateway to Cyprus, thanks to its busy international airport and seaport. It is only Cyprus's third largest coastal city but it is possibly the most popular tourist hub. It is one of the oldest continuously inhabited cities in the world, and has plenty of historical sightseeing on offer to complement its deep-blue sea, bright sandy beaches and reliably sunny skies. The city was called Kition in the days of the Old Testament and the ruins of the ancient city can still be seen. Much of its rich archaeological heritage has been preserved and is showcased in two of its main museums. The surrounding area beyond the city is also a treasure-trove of historic ruins from the Neolithic period onwards. Larnaca is therefore a paradise for those interested in ancient history and archaeology, as well as for those who specialise in sun tanning and swimming.
With its 400-berth marina, Larnaca is also a favoured destination for visitors with yachts. Land-based tourists enjoy the palm-lined harbour promenade and the city's international calibre shops, inviting cafes and panoramic ocean views. Larnaca is renowned for its high-quality silverwork and lace, and 'Larnaca Lace' is among the most popular souvenirs from Cyprus.
Become our Larnaca Travel Expert
We are looking for contributors for our Larnaca travel guide. If you are a local, a regular traveller to Larnaca or a travel professional with time to contribute and answer occasional forum questions, please contact us.