Limassol Travel Guide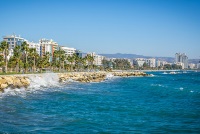 Limassol © Sergey Galyonkin
During the Crusades Richard the Lionheart visited the Cypriot city of Limassol (then known as Lemesos) to free his betrothed from the Byzantine sovereign. The subsequent wedding became a party that remains legendary today, which is probably why modern Limassol is still a centre of joie de vivre. This lively ambience is also aided and abetted by the fact that Limassol is the centre of winemaking on the island.
Today Limassol is Cyprus' second-largest city with around 200,000 inhabitants. Many people travel to Limassol to enjoy its lovely beaches, sidewalk cafés, and lively nightlife. Visitors can take an evening stroll on the seafront Akti Olympion, followed by a visit to a traditional buzukia tavern for live music. The Old Town radiates from the fishing harbour, with narrow streets lined with shops and boutiques.
The foothills of the Troodos Mountains lie north of the city and offer charming country walks that meander through friendly villages. A quick drive to the Kourion, only nine miles (15km) away, also offers historic sites such as The House of Achilles, the Altar of Apollo, and Curium Beach.
Become our Limassol Travel Expert
We are looking for contributors for our Limassol travel guide. If you are a local, a regular traveller to Limassol or a travel professional with time to contribute and answer occasional forum questions, please contact us.