Nicosia Travel Guide
Why? The capital of Cyprus has the distinction of being the world's only divided city. Those who holiday in Nicosia can undertake a unique walk along the Green Line that divides the Turkish controlled north from the southern Republic of Cyprus. A Nicosia holiday is focussed mainly on the charming Old City, bursting with authentic Cypriot tradition. It is also the best place on the island for shopping.
When? Summers are hot and dry, so this is the best time to travel to Nicosia, although with its Mediterranean climate the city has abundant sunshine all year round.
Who for? Families prefer to enjoy the island's seaside resorts, but everyone enjoys a day or so out of their holiday to travel to Nicosia for some sightseeing and shopping in the Old City.
More Info: To make the most out of your holiday in Nicosia consult our comprehensive Nicosia travel guide which lists attractions and excursions in the city and includes valuable information for travel to Nicosia such as entry requirements, currency exchange and airport facilities. The Nicosia travel guide can be printed out to take with you.
---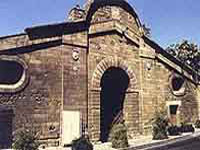 The Famagusta Gate, Nicosia © Cyprus Tourism
The bustling city of Nicosia (Lefkosia) in the northern interior has been the capital of Cyprus since the 12th century. It stands today as Europe's only divided city, being split in two by the 'Green Line', a United Nations buffer zone that divides the government-controlled Republic of Cyprus in the south from the Turkish-occupied Northern Cyprus.
The modern city centre of Nicosia is surrounded by elegant tree-lined suburbs, but the favoured tourist sector is the Old Town, which is being extensively renovated. The Old Town is a picturesque fusion of 16th-century walls, pedestrian precincts, pavement cafes and squares, brimming with charm, character and sightseeing opportunities. There are many things to see and do in Nicosia, with a variety of museums, performance venues, cinemas, restaurants, bars and nightclubs to choose from.
The city, on the Mesaoria Plain, is the centre of the Nicosia District that includes the valleys of Solea and Pitsilia and parts of Marathasa with its mountain villages, orchards, hill resorts and plethora of Byzantine churches and monasteries. These are within easy reach and make for pleasant day trips from the city. While Nicosia doesn't have the stunning Mediterranean beaches to offer visitors, it is a great base from which to explore the mountainous regions of Cyprus, which are very beautiful in their own right and offer numerous hiking trails.
Become our Nicosia Travel Expert
We are looking for contributors for our Nicosia travel guide. If you are a local, a regular traveller to Nicosia or a travel professional with time to contribute and answer occasional forum questions, please contact us.