What to see in Nicosia
Nicosia Attractions
There's plenty to see and do in Nicosia, despite not offering lovely Mediterranean beaches. As one might expect from the capital of such a culturally and historically rich country, the city has a number of wonderful museums.
The Cyprus Archaeological Museum holds a breathtaking collection of artefacts from all over the country, while the Leventis Municipal Museum has a great overview of the history of Nicosia spanning ancient times through to modern day. The Byzantine Museum boasts remarkable religious art and iconography, and the Ethnographic Museum is a must if you are interested in the folk traditions of Cyprus.
Some of the most incredible attractions in Nicosia are religious buildings, such as St John's Cathedral, the official state church of Cyprus. It is comparatively small for a cathedral but the interior is wondrous.
Alternatively, Nicosia's Old Town is strewn with attractions for visitors and is a good area to begin your sightseeing in the city. A stroll around the old walls is a must, with the surrounding pleasant gardens adding to the experience.
There are also relics and remains to be found a short distance beyond the city. The ancient settlement of Tamassos makes for an exciting excursion from Nicosia and offers some thrilling ruins for exploration, as well as being the location of a rich archaeological site containing a necropolis and tombs.
---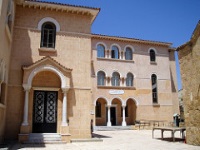 The Byzantine Museum in the Old City of Nicosia displays the largest collection of art on Cyprus. The museum contains an art gallery exhibiting oil paintings, maps, and lithographs, giving…

read more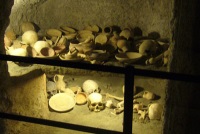 The Cyprus Archaeological Museum was established to collect, study, and display archaeological artefacts from all over the island. Located at a different site, the first museum was established…

read more
Become our Nicosia Travel Expert
We are looking for contributors for our Nicosia travel guide. If you are a local, a regular traveller to Nicosia or a travel professional with time to contribute and answer occasional forum questions, please contact us.