Paphos Travel Guide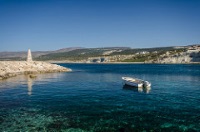 Paphos © Tobias Van Der Elst
The city of Paphos on the southwest coast of Cyprus was the capital of the island in Roman times, dating from around 1400 BC. Legend has it that the city is built on the spot where the Greek Goddess of love, Aphrodite, was born.
The city also has many connections to and relics from early Christianity. Over the centuries, it has survived numerous foreign incursions and raids, and even a devastating earthquake in the 4th century. It lost out to Larnaca as a major port in the Middle Ages and experienced a decline during the British colonial period when development of this part of the island came to a standstill.
Today, Paphos has become a popular seaside resort with a large population. The Ktima section of the city is the main residential area, while Kato Paphos is the playground of holidaymakers, built around the medieval port with its numerous luxury hotels, tavernas, and entertainment venues.
Most visitors to Paphos come for the stunning beaches, framed by palm trees and limestone cliffs. Aphrodite's Rock Beach offers some of the best snorkelling in Cyprus, while Pissouri Beach and Kourion Beach are popular with waterskiers and windsurfers.
Paphos Municipal Beach is conveniently located close to the centre of town, and has a long promenade with plenty of restaurants and bars nearby. Paphos also makes a great base for exploring the unspoiled beauty of the Akamas Peninsula, the Diarizos River Valley, and the Ezouza Valley.
Cyprus is a destination famous for its festivals, with Paphos being no exception. Perhaps the most important holiday on the calendar is that of Greek Easter, when streets fill up with revellers and costumed revellers march through town in amazing parades.
The Limassol Carnival is a celebration as old as the island, with its beginnings said to trace back to pagan times. It's a 10 day festival of colour and wonder on the Sunday before Ash Monday, with a procession of games, songs, processions, balls, and feasts.
There are a few festivals to whet the appetite for those partial to a beverage or two, including separate events focusing on wine, such as the Dionysia Festival, and on beer. Amazing musical programmes are performed in the ruins of Amathous as part of the Amathusia Festival while spring is celebrated with the Anthestiria Flower Festival.
Become our Paphos Travel Expert
We are looking for contributors for our Paphos travel guide. If you are a local, a regular traveller to Paphos or a travel professional with time to contribute and answer occasional forum questions, please contact us.