Paphos Travel Guide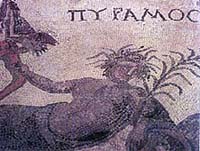 Ramoc Mosaic, Paphos © Cyprus Tourism
The city of Paphos on the southwest coast of Cyprus was the capital of the island in Roman times, and dates from 1400 BC. Legend has it that the city is built on the spot where the Greek Goddess of Love, Aphrodite, was born. The city also has many connections to and relics from early Christianity. Over the centuries it has survived numerous foreign incursions and raids, and even a devastating earthquake in the 4th century. It lost out to Larnaca as a major port in the Middle Ages and experienced a decline during the British colonial period when development of this part of the island came to a standstill.
Today, however, Paphos is reviving on the strength of tourism and government investment in infrastructure such as dams, roads and airports. Private initiatives have also resulted in a boom in the construction of hotels, apartments and villas. The city has become a popular seaside resort with a large population. The Ktima section of the city is the main residential area, while Kato Paphos is the playground of holidaymakers, built around the medieval port with its numerous luxury hotels, tavernas and entertainment venues.
Become our Paphos Travel Expert
We are looking for contributors for our Paphos travel guide. If you are a local, a regular traveller to Paphos or a travel professional with time to contribute and answer occasional forum questions, please contact us.