Wilmington Travel Guide
Why? Wilmington is midway between New York and Washington, DC, so it is perfectly situated for a convenient getaway. Plus, it is full of undiscovered gems, like the Mt Cuba Center's native gardens, which makes it an ideal setting for a romantic holiday.
When? In spring, the many gardens of the Brandywine Valley burst into bloom, though summers are also fun, with the Italian Festival in Little Italy and the tempting beaches of southern Delaware only an hour's drive away. However, Yuletide at Winterthur during the Christmas season is also a special experience.
Who for? The romantic Brandywine Valley is lovely for couples, though its many museums cater to children as well. Young people might enjoy the libations of the Twin Lake Brewery just north of town.
More Info: Our Wilmington travel guide is updated daily to provide current information on all aspects of a holiday in Wilmington, from the top attractions and excursions to how to use the bus service.
---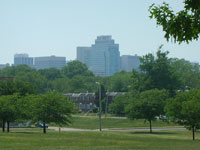 Wilmington skyline © Ben Turover
Wilmington has undergone a revitalisation in recent years, and though business is perhaps still the main attraction, there are pockets in and around the downtown area that are well worth a visit, beginning with the Riverfront on the Christina River. Visitors can stroll along a waterfront path leading to the Shipyard Shops, the rowing centre and various restaurants and museums.
The city comprises many distinct neighbourhoods, and for those seeking a less touristy experience, Trolley Square is an excellent option. It's full of shady sidewalk cafés, cosy bistros and lively pubs, including Kelly's Logan House, a local institution since 1864 and the only place to be on St Patrick's Day. Stately old homes and restored townhouses surround the area. Not far away is Little Italy, home to Mrs Robino's, one of the city's oldest and most popular spots for authentic Italian food. During the summer, the best way to cool off is with a treat from one of the historic community's countless Italian water ice stands.
For many visitors, the most appealing attractions lie just outside city limits, in the beautiful Brandywine Valley. The area is a horticultural delight, with endless gardens and arboretums, as well as the 'American castles' of the du Pont family, including Winterthur and Nemours, magnificently preserved and packed with artwork and antiques.
Become our Wilmington Travel Expert
We are looking for contributors for our Wilmington travel guide. If you are a local, a regular traveller to Wilmington or a travel professional with time to contribute and answer occasional forum questions, please contact us.