Billund Travel Guide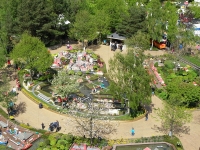 Legoland Billund © Eileen Sanda
Billund is a charming town which owes its fame to one of Denmark's most well-loved inventions: Lego.
A visit to Billund almost always revolves around a visit to Legoland, making it one of Denmark's most popular destinations for tourists travelling with kids. Billund is home to the Lego Group head office and the famous theme park on the town's outskirts is the original Legoland, and opened in 1968.
The Legoland Billund Resort is a colourful playground of innovative rides, games and Lego structures which all delight children. It is even possible to spend nights in the resort, in cool themed rooms . Travellers should note, however, that the theme park is only open between mid-March and October, closing for the cold winter months from November to February.
As if the vast Legoland is not enough, another popular attraction in Billund is the world-class waterpark of Lalandia Billund, full of water slides, pools and spa facilities, which can also keep families happily occupied for days.
Located in central Denmark, Billund is serviced by the second largest airport in the country, ensuring easy access by air, and it is only 17 miles (27km) from the regional capital of Vejle.
Become our Billund Travel Expert
We are looking for contributors for our Billund travel guide. If you are a local, a regular traveller to Billund or a travel professional with time to contribute and answer occasional forum questions, please contact us.