Bornholm Travel Guide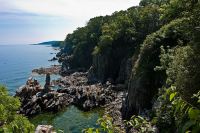 Bornholm © Andreas Lippelt
Sometimes referred to as the 'Pearl of the Baltic', Bornholm is a wildly popular holiday destination in Denmark for tourists from Sweden, Poland and Germany, though it is largely overlooked by tourists from the US and UK.
The island, located in the Baltic Sea, is geographically closer to Sweden and Poland than the Danish mainland, which gives it a uniquely international environment. Established as an important trading post in the Viking age, Bornholm passed in ownership from country to country for many centuries and was a heavily-contested strategic point in World War II for the Russians and Germans.
These days visitors to Bornholm come not to trade or occupy but to enjoy the island's sunny beaches and gorgeous natural environment, and activities like sailing, fishing, camping, hiking, bicycling and just lounging in the sun are popular ways to pass the time. The Almindingen forest is among the largest in Denmark, and Dueodde boasts some of the best sandy beaches in the Baltic.
The numerous small towns on Bornholm hold their own attractions, including the beautiful sunrises and charming winding streets of Gudhjem, the jazz festival at Allinge, and the bustling markets and local beers of Svaneke. The biggest town on Bornholm is Rønne, which is where most ferries disembark, and features pretty 19-century architecture, and a collection of museums, shops and restaurants.
Getting to Bornholm is not easy, as ferries from Copenhagen take between five to seven hours, however there are regular direct flights from Denmark and Germany. Bornholm can be uncomfortably crowded and inconveniently over booked in the peak summer season, but the dramatic changes in season in late spring and early autumn are ideal times to enjoy the abundant beauty of the tiny island.
Become our Bornholm Travel Expert
We are looking for contributors for our Bornholm travel guide. If you are a local, a regular traveller to Bornholm or a travel professional with time to contribute and answer occasional forum questions, please contact us.
iExplore designs made-to-order, privately-guided adventure tours to Denmark, Scandinavia and over 200 other world wonders. Come Back Different!
ADVERTISEMENT
---