Copenhagen Travel Guide
Why? Anyone fortunate enough to holiday in Copenhagen will testify to the fact that the lovely Danish capital is one of Europe's most desirable destinations. Its attractions are many, and easily accessible on foot; its architecture reflects its centuries of history; its shops are upmarket and splendid; its restaurants are superb. To sum it up in a word, Copenhagen is simply wonderful!
When? A summer holiday in Copenhagen is ideal, especially for those intent on making the most of Tivoli Gardens, the city's popular amusement park, and the pavement cafes on the pretty squares. A Copenhagen holiday is also magical in the run-up to Christmas, when the snow-covered city takes on a fairy-tale aspect and it is fun to shop for gifts in the Christmas markets.
Who for? A holiday in Copenhagen is a magical experience for children and anyone who is young at heart, with its wonderful Tivoli funfair and association with Hans Christian Andersen's fairy-tales. Culture vultures travel to Copenhagen to enjoy its many theatres, arts events and music concerts.
More Info? Find out all the delights that await you on a Copenhagen holiday by consulting our Copenhagen travel guide, which lists details of the major events and attractions in the city, as well as providing basic information for planning travel to Copenhagen.
---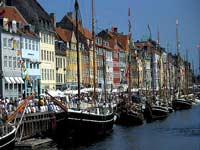 Nyhavn, Copenhagen ©
The waterside city of Copenhagen is packed with old-world fairytale charm alongside some of the world's most avant garde architecture. It is a vibrant, modern city with a long and fascinating history; it has been the capital of Denmark for nearly 600 years and is home to the oldest resident monarchy in the world.
The biggest city in Scandinavia, Copenhagen occupies a pleasant and strategic spot on the Baltic east coast of Denmark's largest island, Zealand, its harbour overlooked by the world-famous statue of the 'Little Mermaid'.
One of the first impressions that strike visitors to this busy, dynamic capital is the cleanliness and orderliness that prevails in its narrow medieval cobbled central city streets and along the picturesque canals in Christianshavn. Most of the myriad attractions for visitors are situated within about one square mile (3 sq km) of flat terrain in the centre, making it easy to explore on foot (or bicycle, which is the vehicle of choice for locals).
Five streets in the heart of the city have been merged to provide the world's longest pedestrian mall, running between Rådhuspladsen and Kongens Nytorv, which are packed with historic gabled buildings, dynamic department stores, stunning shops, restaurants, pavement cafes, theatres, and world-class museums and galleries.
Despite the condensed city centre, Copenhagen is not short on green lungs: parks such as the ever-popular Tivoli Gardens abound in this city, which prides itself on its strict anti-pollution laws and lack of glass and chrome skyscrapers.
The family-friendly city that spawned beloved storyteller Hans Christian Andersen is, indeed, a modern fairy-tale: one of Europe's finest capitals that retains a provincial charm and sense of history along with its cutting-edge efficiency, offering its justifiably proud citizens an extremely high standard of living.
Become our Copenhagen Travel Expert
We are looking for contributors for our Copenhagen travel guide. If you are a local, a regular traveller to Copenhagen or a travel professional with time to contribute and answer occasional forum questions, please contact us.
iExplore designs made-to-order, privately-guided adventure tours to Denmark, Scandinavia and over 200 other world wonders. Come Back Different!
ADVERTISEMENT
---