Roseau Travel Guide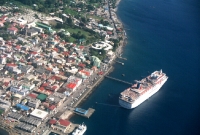 Roseau, Dominica © Andrew Mawby
Squashed rather tightly into a small area on the west coast of Dominica, bounded by the sea and rivers, the island's capital, Roseau, is a hodgepodge of low-rise French and British colonial structures and modern concrete buildings along narrow streets. Most visitors congregate along the Bayfront, opposite the cruise ship jetty, and browse through the Old Market, where slaves were once bought and sold and souvenirs are now hunted. It is well worth taking some time to explore the compact museum in the Old Post Office, although if time is limited it is the natural bounty of Dominica that should be experienced.
A trip to the botanical gardens is a popular choice for cruise passengers, and the best view across Roseau is to be had from Morne Bruce, above the gardens, which can be reached by a track leading up from the east gate. Roseau is a relaxed, friendly town without bright lights and glitz, but there are some hot-spots after dark. Visitors can find these mainly in the local hotel bars and clubs. The World Creole Music Festival makes a visit in late October a special treat.
Roseau serves as the necessary commercial hub for those travellers who come in search of the natural splendour and adventurous excursions of delightful Dominica, and though the city is not a popular destination in itself it is not without charm.
Become our Roseau Travel Expert
We are looking for contributors for our Roseau travel guide. If you are a local, a regular traveller to Roseau or a travel professional with time to contribute and answer occasional forum questions, please contact us.