Galapagos Islands Travel Guide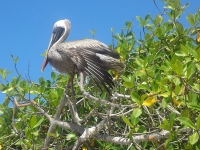 A Brown Pelican, Galapagos Islands © David Adam Kess
The volcanic Galapagos Archipelago is made up of 13 major islands and six smaller ones lying about 600 miles (970km) from the mainland and located on the equator. It is the second largest marine reserve in the world, spread over 19,500 square miles (50,000 sq km), and was made a National Park in 1959. Positioned between three ocean currents, the climate is unique, and as a result, roughly 50 percent of the species are unique to the islands. Famous for its exceptional and fearless wildlife, it has become a paradise for nature enthusiasts and photographers.
The Galapagos Islands are a popular vacation destination, and the Ecuadorian government maintains strict control over tourist access in an effort to preserve the local ecosystem. All visitors must be accompanied by a certified tour guide, and there are additional restrictions regarding the size of tour groups and the level of activity in a given area, so it's best to make bookings ahead of time.
Visitors to the archipelago will be guided around various islands, each one with different species of fauna and flora. It is possible to pass within inches of mating iguanas, walk between nesting frigate birds, stand beside blue-footed boobies feeding their chicks, gawk at fur seals, and watch thousands of brightly coloured Sally Lightfoot crabs scuttling across the black volcanic rocks. In the sea, visitors can swim, snorkel and dive with sharks and turtles, and come mask to face with sea lions and penguins. Also to be seen are albatrosses, lava lizards, flamingos, giant tortoises, masked boobies and Darwin finches.
Although the islands are volcanic and largely bare of vegetation, they have different geological features that make them dramatic and strangely beautiful. These include a 30-foot (10m) high cactus forest, exquisitely twisted lava flows, spatter cones and lava tunnels, bizarre rock formations, and red, black and white sand beaches.
The islands first became famous with the scientific voyage of the Beagle by Charles Darwin during the 19th Century, where he was inspired to formulate his theory of evolution by natural selection. Today the archipelago draws an average of 65,000 visitors a year who want to experience for themselves the extraordinary wildlife of these otherworldly islands.
Puerto Ayora, on Santa Cruz Island, is the most developed town on the archipelago, and is the centre of the Galapagos tourism industry. Most visitors stay in this friendly little town while arranging a boat tour to the rest of the islands or anchor in the harbour during their cruise.
Become our Galapagos Islands Travel Expert
We are looking for contributors for our Galapagos Islands travel guide. If you are a local, a regular traveller to Galapagos Islands or a travel professional with time to contribute and answer occasional forum questions, please contact us.
iExplore designs made-to-order, privately-guided adventure tours to Ecuador, the Galapagos Islands and over 200 other world wonders. Come Back Different!
ADVERTISEMENT
---
Intrepid Travel, one of the world's leading suppliers of small group adventures focused on getting off the beaten track, interacting with the locals and having real life experiences throughout Ecuador.
ADVERTISEMENT
---