Bath Travel Guide
Why? It is one of Britain's most unique and ancient cities, therefore a holiday in Bath is not to be missed by anyone touring England. Within easy reach of London, Bath contains some remarkably intact and fascinating Roman ruins; it is also a 'period piece', with its architecture and culture clearly demonstrating the life of the aristocracy in the 19th century when to travel to Bath was the height of fashion. Apart from being a highlight of the British 'tourist track', visitors also travel to Bath for its modern spa, which utilises the same mineral water that the Romans did when they developed the city in the year 43.
When? Spring is the most delightful time of year to travel to Bath, which prides itself in its parks and gardens, in colourful bloom during the months of May and June. Summer is a good time for a Bath holiday, too, although the weather can be changeable and showers are common.
Who for? Anyone determined to tour the highlights of England cannot afford to miss out on a Bath holiday, it being one of the most important historic sites in the country. Those fascinated by ancient Roman history will be awed if they travel to Bath, and modern visitors who need some 'R and R' will enjoy the newly opened spa resort.
More Info: Before you travel to Bath plan the trip with the help of our comprehensive Bath travel guide, which is updated daily and gives details of events, attractions, restaurants and a host of other useful information.
---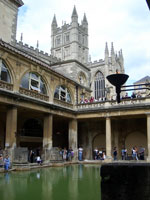 Roman Baths with Bath Abbey © Paul Micallef
The Romans established the City of Bath in the year 43 AD and this city, awash with fabulous architecture, history and culture, has been welcoming visitors ever since. Many of Bath's great buildings date back from its renaissance in the 18th century when it again became a fashionable spa town and played host to royalty and the cream of aristocracy, who famously visited the city to 'take the waters'. Today visitors can walk around the old Roman Baths, enjoy the splendour of Bath Abbey or simply take in the breathtaking Georgian architecture of this beautiful city, which somehow managed to escape the ravages of industry and the Luftwaffe.
Jane Austen lived and based several of her books in Bath, and on Gay Street, near her home, visitors can find the Jane Austen Centre, which displays her life and times. For an authentic feel of life gone by, period decorations and furniture have been reinstated in No1 Royal Crescent, so that the house appears as it did in its days as a fine 18th-century townhouse.
Bath is home to much older attractions than its Elizabethan charms, featuring the famous ancient Roman baths, situated over natural hot springs. Bath was a prosperous tourist destination as early as its Roman occupation, when the baths were built, and continued its reputation as a therapeutic health resort through the medieval period.
Though architecturally Bath is something of a period piece, it is also a very modern city. Its restaurants and pavement cafés are packed full of local businessmen and artisans, and its cinemas, pubs, and nightclubs keep its residents entertained each evening. Bath's answer to Camden Market is Walcot Street, where a bohemian street market takes places each weekend; and its parks and gardens are popular places to relax and enjoy pleasant weather.
The International Music Festival marks the beginning of summer and adds to Bath's lively, festive atmosphere, and its Theatre Royal is one of the country's leading provincial theatres, attracting big names and pre-West End show runs.
Become our Bath Travel Expert
We are looking for contributors for our Bath travel guide. If you are a local, a regular traveller to Bath or a travel professional with time to contribute and answer occasional forum questions, please contact us.