Birmingham Travel Guide
Why? Idiosyncratic in its language and Kashmiri cuisine, Birmingham offers something new to travellers. From pubs and canals to shopping and curry, the Brummies impart an impressive spread. A student town atmosphere coupled with big city features; a holiday in Birmingham makes for a rewarding UK travel experience.
When? Although Birmingham is a beautiful place to visit all year round, the best time to travel to Birmingham is in the summer months between May and September when a clement climate and sunny outlook permeate. In the warm months the city's parks are adorned with an explosion of colour and plenty of festivals take place. In winter Birmingham is lit up and the city adopts a festive atmosphere with the traditional Frankfurt Market dominating.
Who for? A Birmingham holiday can be enjoyed by all. The city is renowned for its shopping potential, from the contemporary Selfridges store, which is recognised as an international design icon, to its brilliant markets. The Cadbury's factory will delight children and cocoa lovers alike and a host of excellent galleries, museums and theme parks promise to entertain.
More Info: Our Birmingham travel guide, which is updated regularly, gives full information on travel to Birmingham with details of events, restaurants and attractions, as well as basic information for international visitors like entry requirements, health and safety precautions.
---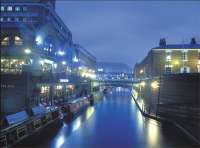 Brindley Place © Marketing Birmingham
Birthplace of the Industrial Revolution, Birmingham is shaking off its dreary reputation as a manufacturing city to reveal a cosmopolitan world city. Situated in the geographical heart of England, the UK's second-largest metropolis is a mixed bag of cultures, dotted with a colourful array of continental eateries, modern shopping arcades, sweeping plazas and vibrant markets.
Much of the area now covered by Birmingham's metropolis was originally the northern corner of the ancient Forest of Arden. Birmingham came to life in the mid-1800s as a major manufacturing town owing to the large deposits of exploitable coal and iron nearby. Despite heavy bomb damage during World War II's 'Birmingham Blitz', much industrial heritage is still present in 'Britain's canal city', which has more even waterways than Venice. Built over 200 years ago, the canals, which once bore the raw materials that would spawn the Industrial Revolution, are now principally used for pleasure, and provide a moody backdrop to the historic buildings, restaurants and pubs that site alongside the water, most notably at charming Brindley Place and the Gas Street Basin.
Birthplace of the likes of JRR Tolkien, Robert Plant, Black Sabbath and The Streets, the Brummies have done their fair share of creative contribution. An impressive live music scene now illuminates the evenings and an exhaustive listing of events can be found in the free fortnightly publication, The Fly. A rich bounty of cuisine and culture make up the world-renowned Balti Triangle, and the curvaceous Selfridges store with its mottled futuristic 'skin' is not to be missed at the Bull Ring centre, a commercial hub that has been in use since the Middle Ages. For a breath of fresh air, head to one of Birmingham's five Green Flag-status parks, and enjoy the shade of the city's dense oak tree cover.
Become our Birmingham Travel Expert
We are looking for contributors for our Birmingham travel guide. If you are a local, a regular traveller to Birmingham or a travel professional with time to contribute and answer occasional forum questions, please contact us.