Bristol Travel Guide
Why? A holiday in Bristol, England's largest seaport, is guaranteed to be memorable as the city is bursting with things to do and see. Some of the sights are quite unique, like the graffiti of local street artist Banksy and the restored Victorian ocean liner, SS Great Britain. Bristol also has a vibrant nightlife, exciting shopping, and a fascinating maritime heritage that is preserved and showcased in the lively Old Harbour area. A holiday in Bristol also presents opportunities for excursions to all the popular tourist destinations of south-west England.
When? The best time to travel to Bristol is during the summer (June to September) when it is usually warm and sunny. Winters are wet, but comparatively mild temperature-wise. A good time to plan a short break in Bristol is at the end of July when the popular Harbour Festival takes place, one of the largest free events in England with music on five stages, street theatre, markets and a fireworks display.
Who for? Bristol has something to offer visitors of all ages, but will particularly appeal to families. Younger travellers will enjoy the nightlife of this lively university city.
More Info: Our comprehensive, up-to-date Bristol travel guide contains all the information you need to plan a short break in Bristol.
---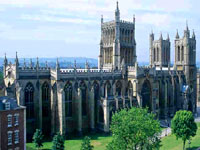 Bristol Cathedral ©
The River Avon winds picturesquely through the bustling city centre of Bristol in the southwest of England, and has played a key role in the development of the city as a major English commercial port. Surrounded by a charming hilly landscape and the spectacular, ice-carved Avon Gorge, Bristol is a scenic mix of history, commerce and culture.
The city contains a mish-mash of architecture spanning over 400 years, much of which has been rebuilt, destroyed, relocated or vandalised over time. The city fathers seem to have had a constant need to modernise, and today, few of the city's earliest treasures remain, particularly after Bristol was severely blitzed during World War II. Although there is little or no remnant of Bristol's 11th-century origins, the city is not devoid of character by any means, and there has been an attempt to restore the remaining jewels, evident in the beautiful Queen and Portland Squares. There are plenty of Georgian and Victorian churches, buildings and monuments to be seen and the city's strong maritime history can still be explored.
Bristol's busy city centre contains a number of excellent museums, galleries, parks and churches, including the Bristol Cathedral. The city receives over nine million visitors a year and as one of the current top ten UK holiday destinations, its tourism industry is rapidly expanding. Its thriving music scene is still dominated by trip-hop (also known as the Bristol Sound), which emerged in the city in the 1980s and 1990s; and with two universities, Bristol has a thriving nightlife, plenty of restaurants and shops galore.
Bristol's green lung has long been the Downs. Over 400 acres of grassland stretch from Avon Gorge to the Victorian-built suburbs of the city, and locals and visitors alike flock to enjoy the peace and quiet they offer. Other great sights in the city include the Bristol Zoo and Gardens, and the Bristol Clifton Observatory and caves, near the eye-catching Bristol Clifton Suspension Bridge.
The diversity and muddled history of the city make it well worth the visit, and it is also a convenient distance from the nearby city of Bath, as well as the fascinating site of Stonehenge.
Become our Bristol Travel Expert
We are looking for contributors for our Bristol travel guide. If you are a local, a regular traveller to Bristol or a travel professional with time to contribute and answer occasional forum questions, please contact us.