Durham Travel Guide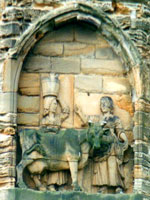 Durham's legend ©
With a thousand years of history under its belt, and a skyline dominated by its magnificent Cathedral, the hilly city of Durham in north-east England is picturesque and prominent on the list of the United Kingdom's 'must-see' tourist destinations.
Back in 995, legend has it a group of monks from Lindisfarne (the Holy Island off the north-east English coast) were wandering around looking for a place to settle down and entomb the body of their revered mentor, Saint Cuthbert. They stopped to help a distressed milkmaid who had lost her cow, and the animal was found resting on a pretty peninsula formed by the River Wear. The spot seemed perfect for their purpose and they stayed, later starting work on the building of a Cathedral (1093), which still houses Saint Cuthbert's remains.

As well as becoming one of England's most influential ecclesiastical centres, the residents of Durham also set about making their mark politically, mainly because of the town's strategic position close to the Scottish border. The castle built by William the Conqueror in 1071 saw plenty of military action over the centuries, and stands proudly opposite the Cathedral, now home to a college of Durham University.
Many of the sons and daughters of Durham have made their mark in a variety of fields, from poets and artists to novelists and musicians. One of the most notable modern celebrities spawned by the city is Tony Blair, former UK Prime Minister.
History has moulded Durham, and its medieval character has been carefully preserved, making today's city a compact living museum spiced with a wide range of modern facilities. Most of the city centre is pedestrianised, with life centred on the cobbled Market Place, where street entertainers provide amusement and modern shops and restaurants trade happily alongside the old Victorian Market. Along the riverbanks, which border the town on three sides, meandering paths and river cruisers provide a peaceful alternative to sightseeing and shopping.
Become our Durham Travel Expert
We are looking for contributors for our Durham travel guide. If you are a local, a regular traveller to Durham or a travel professional with time to contribute and answer occasional forum questions, please contact us.