United Kingdom

---

---

---

---
Leeds Travel Guide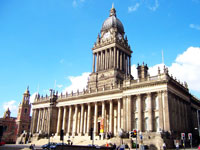 Leeds town hall ©
Not very long ago the West Yorkshire city of Leeds was a grim, grey industrial town, which visitors could well describe as the 'dead centre' of England, and not just because of its location. In little more than a decade, however, Leeds has enjoyed an economic boom and its transformation has earned it accolades from all quarters. It is now recognised as one of Europe's most successful cities. Along with this boom has come a tide of tourism, spurred along by a 'UK's favourite city' award from Conde Nast Traveller magazine in 2003.
Leeds currently attracts an average of 1.4 million sleep-over visitors a year, and 18 million more who come on day trips. The reasons they come to Leeds are many and varied, because this is a city with plenty to offer, from its famously wild nightspots to its cultural events, and its abundant shopping to its fascinating collection of museums.
Sharing access to the nearby international airport is the neighbouring historic Yorkshire city of Bradford, also a vibrant, cosmopolitan city offering plenty to amuse and entertain visitors. Bradford has attractions like the National Media Museum with its Imax cinema, and industrial museum, and a splendid art gallery contained in beautiful Lister Park.
These two complementary Yorkshire cities, with their packed calendars of festivals and events, have become the beating heart of northern England. Visitors to the UK should not pass up the opportunity to visit Leeds, which has been dubbed the 'Knightsbridge of the North'.
Become our Leeds Travel Expert
We are looking for contributors for our Leeds travel guide. If you are a local, a regular traveller to Leeds or a travel professional with time to contribute and answer occasional forum questions, please contact us.