London Travel Guide
Why? England's historic capital was the centre of the British Empire for generations, and is imbued with a sense of history. Modern London has retained its ancient heritage and remains the focus of world events. Anyone wishing to understand and explore the origins of Western culture will revel in a holiday in London, where traditional attractions still amaze and astound.
When? London is famed for its abundance of rain and fog, so an umbrella is a necessity when planning to travel to London on holiday any time of year. The best time to holiday in London is during spring (May and June) when the parks erupt in a profusion of flowering bulbs, or autumn, when the trees turn into golden hues and skies are often a murky blue. The long summer evenings make June and July good months to travel, although public transport can become oppressive on hot days. Winters are gloomy, dark and cold.
Who for? A holiday in London is enjoyable for anyone and everyone. Families with children can visit numerous entertaining attractions, from the Tower of London with its bloody history to the London Dungeon and Madame Tussaud's waxworks museum or the London Eye with its stunning vistas of the city. Couples can enjoy the restaurants and nightlife, see a West End show, and explore the markets and famous shopping streets.
More Info: Our London travel guide has all the information you need for a vacation in London, including recent reviews of where to eat and what to see and do in London, whether on holiday or business. The Basics section includes essential advice for international travellers on entry requirements, customs, currency, tipping and more.
---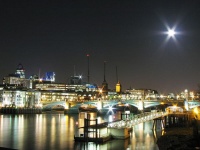 London nights © Dimitry B
Whether you arrive in London via the underground or inside one of the city's ubiquitous black taxicabs, you will immediately be greeted by a deep sense of history and met with the unique vibrancy of this incredible destination.
In its dark and troubled past, the city of London has survived Roman occupancy, sackings from the Celts, Romans, Vikings and Saxons, a Norman invasion, two great fires, the bubonic plague, Nazi bombings, the Spice Girls and Damien Hirst.
But the London of today promises something for everyone. The London Eye lifts visitors high above the river into vistas that stretch tight across the fading skies. Further down on the South Bank, the Tate Modern contains one of the world's most incredible collections of Modern Art, while the city's 30,000 stores and boutiques will exhaust even the most avid shopper, and its 6,000 restaurants are only too eager to demonstrate why Britons revere their chefs as celebrities.
For those interested in exploring the country's heritage, the Tower of London is an excellent starting-point. First constructed in the 11th century, the Tower has been rebuilt several times as later monarchs have left their mark. Still one of London's biggest attractions, and a great celebration of pomp that is free to all visitors, is the Changing of the Guard at Buckingham Palace, which happens daily.
As the great dome of St Paul's reflects the colours of the setting sun, London comes alive with an unrivalled nightlife. For those up for something more thrilling than dinner and the theatre, London has a vast number of bars and nightclubs catering to all tastes.
Following infrastructure upgrades for the 2012 Olympic Games, there is simply no better time to visit England's capital city. Cheap flights to London are available on a huge variety of airlines - book now, and get the ball rolling on the holiday of a lifetime.
Our Travel Expert
Tom has lived all over the world and has travelled extensively. He now lives in the Cotswolds, England.
>Read Tom's tips on London
>Ask Tom a question
---
Become our London Travel Expert
We are looking for contributors for our London travel guide. If you are a local, a regular traveller to London or a travel professional with time to contribute and answer occasional forum questions, please contact us.
---