Newcastle-Upon-Tyne Travel Guide
Newcastle-Upon-Tyne travel Forum
---
Why? With its sparkling, stylish waterfront and a host of historic sites, Newcastle is a mix of fun and culture, spiced with the legendary Geordie folk heritage. Newcastle, the party capital of north-east England, is often underrated as a travel destination and has been dubbed one of England's best-kept secrets.
When? Like most of England, summer is the best time to travel to Newcastle-upon-Tyne, which has the advantage of being one of the United Kingdom's driest cities. Summertime brings warm temperatures, when locals and visitors alike can take advantage of outdoor party venues.
Who for? A weekend break in Newcastle is well-suited to the younger crowd, who will get the most out of the party culture of this university city. History buffs may also enjoy a trip to Newcastle for its ancient Roman heritage and its proximity for excursions to Hadrian's Wall.
More Info: Find out all the information you need for an enjoyable holiday in Newcastle from our full Newcastle-upon-Tyne travel guide, which lists the major local attractions and a great deal more.
---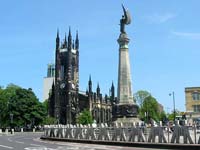 Newcastle ©
Newcastle-Upon-Tyne, or Newcastle as it is more commonly known, has worked hard to throw off its image as a dreary, industrial city and to develop a thriving tourism industry. Clearly successful in its attempts at regeneration, Newcastle has now become a highly popular UK weekend destination, particularly with a younger crowd who flock to its bars, restaurants and nightclubs, intent on having a good time.
Situated on the River Tyne's north bank, the city boasts a 2,000-year history and a treasure-trove of architecture, with some of the most classically-styled buildings found anywhere in the UK. Although the city really only reached prominence in the Industrial Revolution, it had long been a capital and a chief defensive point in the north of England for the Romans and Saxons respectively. The city's origins as a Roman town are still evident in Hadrian's Wall, the ruins of which can be seen stretching eastward to Wallsend.
Today, these Roman ruins and the grand elegance of areas such as the neoclassical Grainger Town in the city centre contrast with the ultra-modern buildings of the city's new Quayside development. Newcastle's waterfront glitters with chic boutiques, excellent restaurants, stylish hotels and modern art. The Gateshead Millennium Bridge, a work of art in itself, arches across the River Tyne to link Newcastle to the Gateshead Quays.
The city's modern amenities lie comfortably alongside a myriad of historic sites, parks, traditional markets, galleries and museums, and although it may not yet be on everybody's list of top UK destinations, Newcastle is a thriving, vibrant city with plenty to offer to the visitor.
Become our Newcastle-Upon-Tyne Travel Expert
We are looking for contributors for our Newcastle-Upon-Tyne travel guide. If you are a local, a regular traveller to Newcastle-Upon-Tyne or a travel professional with time to contribute and answer occasional forum questions, please contact us.