Oxford Travel Guide
Why? Visiting Oxford, the city that represents England's academic establishment, is like entering a living museum, but those who travel to Oxford discover that there is a vibrant and modern side to this city of students too, and the serious revelry in the local pubs and clubs matches the ardent academia.
When? In common with the rest of England, summer is the best time to travel to Oxford for the warmest weather, but this does not mean it will necessarily be dry.
Who for? Many people choose to holiday in Oxford just to say they have been to this, the most renowned academic city in the world, and explored the iconic buildings and colleges that make up the university campus at the heart of the city.
More Info: When planning a holiday in Oxford use our Oxford travel guide to find out all you need to know, including details of the major attractions. The Oxford travel guide is updated regularly and can be printed out or emailed to friends.
---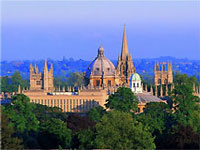 Oxford ©
Having spawned the legendary Alice in Wonderland, Bilbo and Frodo Baggins and the Chronicles of Narnia, Oxford is not only England's oldest centre for learning, but the home and inspiration of such famous authors as Lewis Carroll, CS Lewis, and JRR Tolkien. The city recently added to its literary resume by acting as the location for several parts of Hogwarts School in the blockbuster Harry Potter films.
The 'dreaming spires' of Oxford University house the famous Ashmolean Museum and the Museum of Modern Art; other excellent museums in Oxford include the Pitt Rivers Museum of Anthropology and Ethnology, the Christ Church Picture Gallery, and the Oxford Museum of Natural History. Whether lazing on one of the college quadrangles, punting down the river or exploring the city's ancient heritage, Oxford promises something for visitors of all ages.
Outside of the university, the city of Oxford has a number of its own attractions, including active theatre and art communities, and many unique and interesting shops and restaurants. The Covered Market in High Street is the oldest in England and worth a browse, and you'll find many shops that sell Oxford University memorabilia, whether authentic or not.
It should come as no surprise that a town this dedicated to its university would have a busy nightlife, and many bars, pubs and nightclubs open their doors nightly to students and anyone else who wanders in.
Become our Oxford Travel Expert
We are looking for contributors for our Oxford travel guide. If you are a local, a regular traveller to Oxford or a travel professional with time to contribute and answer occasional forum questions, please contact us.