Tallinn Travel Guide
Why? The medieval city of Tallinn was first put on the map in 1154, and today remains firmly marked as a favourite holiday destination on the Gulf of Finland. The main reason people choose to holiday in Tallinn is to roam its enchanting historic centre, atop the hill of Toompea, filled with medieval buildings and enticing cobbled alleyways. To complement the history, a holiday in Tallinn also offers alluring boutique shopping similar to that found in Swiss cities.
When? The best time to travel to Tallinn is during April and May when the spring weather is pleasant and welcoming. The summer months, while they are the warmest, are also the wettest and in winter it is freezing with only a few hours of dismal daylight and snow clogging the streets.
Who for? A holiday in Tallinn offers all the requirements for a great Baltic break, from historic sights to visit to a lively nightlife and great food. The city will therefore appeal to anyone who enjoys a relaxing getaway in an atmospheric setting.
More Info: Our Tallinn travel guide contains details of the major events and attractions in this scenic city, and explains the modern transport system as well as a host of other useful information to ensure your holiday in Tallinn is an enjoyable experience.
---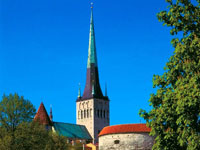 St Olaf's Church © Tallinn City Tourist Office & Convention Bureau/Tavi Grepp
Estonia's ancient seacoast capital, Tallinn exudes a sense of romantic history, being one of the most completely preserved medieval cities in Europe, a gem on the UNESCO World Heritage List that is only beginning to be discovered by delighted visitors of all ages. A spirit of mystery still pervades the cobbled courtyards of the picturesque Old Town, the winding alleys overhung with original 12th and 13th century merchant's houses, barns, warehouses and a profusion of perfectly preserved medieval church and state buildings.
While preserving its past Tallinn is as forward-looking and progressive as any other modern European capital. This is probably best reflected in the interactive exhibits at the Tallinn Science and Technology Centre, the city's showcase for the arts and sciences. Public transport is modern and efficient; the nightlife is pumping from cigar bars and pool halls to nightclubs; and dining out is a tasty choice from take-away pizza and Chinese to formal French and traditional Estonian cuisine.
Become our Tallinn Travel Expert
We are looking for contributors for our Tallinn travel guide. If you are a local, a regular traveller to Tallinn or a travel professional with time to contribute and answer occasional forum questions, please contact us.