Miami Travel Guide
Why? Sunshine, sand, sea, vibrant nightlife and a sultry Latin American flavour: these are all the main reasons why thousands travel to Miami for their holidays. Apart from exploring the exciting neighbourhoods of the city itself (like Little Havana and the Art Deco district) those who holiday in Miami have the opportunity to make numerous fun excursions to surrounding resorts and attractions like the Everglades.
When? Whatever time of year you choose for a holiday in Miami you will need plenty of sunblock. Traditionally winter is the most popular time to travel to Miami, and it is certainly the ideal season weather-wise. Summers tend to be uncomfortably hot and humid with heavy thunderstorms. Those on a budget will find accommodation prices more reasonable during the off-season though.
Who for? Anyone who enjoys a laid-back holiday with fun in the sun will have a great time in sub-tropical Miami. It is the favourite destination for 'winter refugees' who travel to Miami to escape the chilly northern states.
More Info: To find out all you need to know to make the most of a holiday in Miami refer to our comprehensive Miami travel guide, which features details of attractions, excursions, events and public transport in this seaside city.
---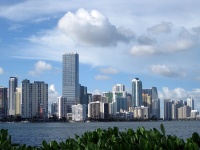 A Miami cityscape © k1ng
Miami may be the retirement capital of the United States, but there is nothing old fashioned about this bright, brash playground city that shines under the sunny Florida skies. This coastal city was a sleepy holiday town until the 1920s, when the 'in crowd' decided to make it their own. The town bloomed into a fun seaside capital and was blessed with a legacy of Art Deco architecture, particularly along South Beach, which has been carefully preserved. During World War II the forces came to town when Miami was an important military base. Today, apart from being a favourite holiday Mecca and sunny spot for retirees, it is also the gateway to the Caribbean and Latin America.
Miami's large Cuban community add to the atmosphere in the sultry neighbourhood of Little Havana. Trendsetters hang out in Coconut Grove, while sunlovers strew the miles of white sandy beaches. For families there are entertaining attractions like the Seaquarium and Metrozoo. The nightlife is sophisticated and varied. The city also gives easy access to Florida's popular Gold Coast resorts and attractions, as well as the natural wonder of the Florida Everglades.
No wonder Miami is America's favourite holiday destination and the hub of a vibrant cruise ship industry, its port jammed constantly with sleek passenger liners. North of the city, miles of beautiful sandy beaches of the Gold Coast are hemmed in by southeast Florida's major tourist resorts: Fort Lauderdale, Hollywood, Pompano Beach and Palm Beach.
Become our Miami Travel Expert
We are looking for contributors for our Miami travel guide. If you are a local, a regular traveller to Miami or a travel professional with time to contribute and answer occasional forum questions, please contact us.