Resorts

---

---
Orlando Travel Guide
Why? For fun in the sun there is no better place to travel to than Orlando, Florida's holiday paradise where Walt Disney founded his Magic Kingdom in 1971. Today Disney World is just a part of the world's greatest pleasure dome, which boasts four major theme parks, including Universal Studios and Sea World.
When? It is holiday time in Orlando all year round. Those who travel to Orlando will find it very hot in summer, and mild in winter. Even the quick thunderstorms that occur between May and September are unlikely to dampen the spirits of Orlando holidaymakers.
Who for? Orlando's myriad man-made holiday attractions are a paradise for children, but no matter what age you are when you travel to Orlando the theme parks and hundreds of other amenities will bring out the child in you.
More Info: To discover the delights of a holiday in Orlando consult our Orlando travel guide. The travel guide, updated regularly, contains all the information you need to plan a holiday in Orlando, from how to get around the resort city to exciting excursions and opening times for the main theme parks.
---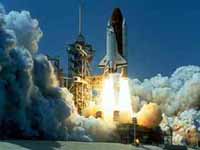 Kennedy Space Centre © Orlando CVB
The most famous resident of this central Florida city is Mickey Mouse, the cartoon creation of animated movie tycoon, Walt Disney, whose vision has turned Orlando, and the adjacent Lake Buena Vista and Kissimee areas, into the world's busiest, biggest and best-known concentrated tourist Mecca. Disney bought up land in the area with the aim of establishing his dream theme park back in the 1960s. He died before the first park, the Magic Kingdom, officially opened in 1971, but his legacy has taken root and is still growing. Currently the Disney empire in Orlando includes four theme parks, dozens of smaller attractions, thousands of hotel rooms and holiday apartments, hundreds of restaurants and snack bars and even two cruise ships.

It is not only the Disney dazzle that draws visitors to Orlando. There are other attractions here too, like Universal Studios and Sea World, all adding to the maelstrom of thrills and pleasure palaces that this city is now renowned for. Just a trip down attraction-rich International Drive is a mind-boggling experience.
Become our Orlando Travel Expert
We are looking for contributors for our Orlando travel guide. If you are a local, a regular traveller to Orlando or a travel professional with time to contribute and answer occasional forum questions, please contact us.