United States of America

---

---

---

---
Resorts

---
Tampa Travel Guide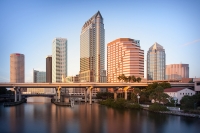 Tampa Skyline © Mark Szelistowski
Multi-ethnic Tampa, on the Florida peninsula's west coast, is a thriving city where quaint historic neighbourhoods co-exist happily with sleek skyscrapers, and shrimp boats vie with cruise liners for space in the busy port. It was the Cuban immigrant community, led by Vicente Martinez Ybor, who put Tampa on the map when they introduced the cigar industry in the 1880s and developed Ybor City, now fully restored to its Latin Quarter elegance and a favourite neighbourhood for tourists to explore, by day or night, due to the sultry and fun nightclubs, bars, restaurants and shops in the area.
Most visitors to the Tampa area stay in the resorts of St Petersburg and Clearwater, across Tampa Bay from the city. Every visitor has ample reason to pay at least one visit to Tampa itself, however, for the exciting attractions and excellent museums on offer. Tampa is most popular with family vacationers due to the city's most popular attraction, the Busch Gardens entertainment park, and the fact that Tampa is within easy reach of Orlando, site of the world-famous Walt Disney World and numerous other exciting theme parks. Tourists staying in Tampa can therefore look forward to some thrilling excursions, and enjoy both urban attractions and the sun, sand and sea of the lovely resorts just outside the city.
Become our Tampa Travel Expert
We are looking for contributors for our Tampa travel guide. If you are a local, a regular traveller to Tampa or a travel professional with time to contribute and answer occasional forum questions, please contact us.