Avignon Travel Guide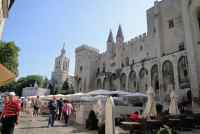 Palais des Papes, Avignon © Joakim Johansson
Situated on the River Rhone, the historic holiday destination of Avignon is famed for being the Vatican of the 14th century; six successive Popes resided here from 1309, making it one of Europe's largest and most important cities of the time. The papacy retreated back to Rome in 1378, but this was just the beginning of a battle between the Italian capital and Avignon for control of the Church's riches and power. Altogether Avignon was the seat for nine Popes, until the last, Pope Benedict XIII, fled into self-exile in 1409. Without the Pope, the city went into a decline that has been exacerbated ever since by floods, fire, the plague and the Le Mistral, the harsh wind that whistles down the Rhone valley in winter. Avignon supposedly was named by the Celts who gave the area the name 'Avenio' or 'the town of violent winds'.
Despite all this, Avignon has one of the best-preserved historic centres in France, making it an alluring holiday attraction. Piercing the skyline are the beautiful spires of the Palais des Papes, and along the cobbled streets are countless richly decorated buildings, ancient churches and spectacular monuments and museums. Imposing medieval walls, built in 1403 by Pope Benedict, enclose the old town. The yearly Avignon Festival draws performers and art enthusiasts from all over France every July. Despite the huge influx of tourists, which double the town's population of 100,000, this is a wonderful festival and a must-see for anyone on holiday in the Avignon area.
Become our Avignon Travel Expert
We are looking for contributors for our Avignon travel guide. If you are a local, a regular traveller to Avignon or a travel professional with time to contribute and answer occasional forum questions, please contact us.