Biarritz Travel Guide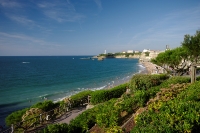 Biarritz Coastline © Emmanuel Dyan
Situated in the very southwest of France, the holiday destination of Biarritz became famous in the 19th century when Empress Eugenie (the wife of Napoleon III) fell in love with this part of the Basque country and built a palace on the beach (now the world-class Hotel du Palais) and a centre with natural springs at Eugenie les Bains.
Soon the area became popular with aristocracy from all over Europe: Queen Victoria came here regularly over a period of 30 years, Edward VI stayed in the Hotel du Palais days before his death, and in the 1930s Edward VIII and Wallis Simpson were regular visitors. Until the revolution in 1917 the Russian nobility wintered here too and built the magnificent Orthodox Church next to the Palace.
However, the days of this beautiful patch of France being reserved for high society are long gone and today Biarritz is a comparatively affordable, vibrant and cosmopolitan town with magnificent beaches. There are a couple of interesting museums to explore as well as a celebrated aquarium. In addition to ample sightseeing opportunities, Biarritz offers extensive shopping and dining options and has an energetic nightlife.
Biarritz has good sporting facilities, including some excellent golf courses and some of the best surfing in France. Each summer, surfers from all over the world come to Biarritz to ride the waves at the annual Surf Festival. Those after more gentle exercise while on holiday opt to stroll along Biarritz's principal promenade, Quai de la Grande Plage.
Become our Biarritz Travel Expert
We are looking for contributors for our Biarritz travel guide. If you are a local, a regular traveller to Biarritz or a travel professional with time to contribute and answer occasional forum questions, please contact us.