Bordeaux Travel Guide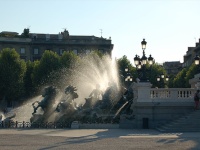 Esplanade des Quinconces © Jonas Witt
Bordeaux is situated on the Garonne River, 20 miles (32km) inland from the Atlantic Ocean, and has the fifth largest metropolitan population in France. In days of yore it started out as a Roman trading post, and passed into the hands of the English who owned it for some 300 years, imparting a British influence on the French flair of the city and surrounds. Many of the grand chateaux in and around the city are still in English hands and are open to tourists.
Most travellers who visit Bordeaux are here for one thing: wine. Wine connoisseurs looking to take home some of their favourite wines will do best to buy directly from the wine farms, but shops such as La Vinothèque on cours du XXX Juillet, or L'Intendant and Badie on allées de Tourny are also good bets.
There are other things to see and do in Bordeaux besides tasting and buying wine, however. The city centre has undergone a remarkable upgrade in recent years, restoring many of its centuries-old buildings. Don't miss the view from Les Quais, including the beautiful Aquitaine Bridge; the historical monuments and lively student bars of La Victoire; and the lush and peaceful Botanic Gardens. Bordeaux also has several interesting museums, including the Museum of Contemporary Art, and the Musee D'Aquitaine, which exhibits Gallo-Roman statues and relics dating back 25,000 years.
Become our Bordeaux Travel Expert
We are looking for contributors for our Bordeaux travel guide. If you are a local, a regular traveller to Bordeaux or a travel professional with time to contribute and answer occasional forum questions, please contact us.