Resorts

---
Corsica Travel Guide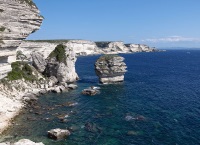 Corsica © Myrabella
The island of Corsica is France's 'little bit of Italy'; it is close to the neighbouring country and has long been influenced by the language, architecture and cuisine of the Italian mainland. The local language, for example, is Tuscan-inspired. Corsica has been under French rule for only 200 years after being sold by Genoa to Paris in 1768. Before that happened, this island that rises majestically out of the Mediterranean, belonged by turns to the Greeks, Romans, Vandals, Byzantines, Moors and Lombards, with each conquering nation adding their influence to the Corsican melting pot. Corsicans today tolerate French rule unwillingly, but radicals are tempered by the realisation that the island economy is heavily subsidised and islanders enjoy generous tax concessions.
Today the invaders of this island, which gave birth to Napoleon and Columbus, are thousands of holidaymakers, who flock particularly to the east coast, with its long sandy beaches and pretty fishing villages, for activities like scuba diving, sailing, kite-surfing and hiking. The west coast has awe-inspiring scenery with cliffs and rocky inlets, while the mountainous interior remains largely wild, in between cultivated groves of olives, pine plantations and cork forests.
Corsicans maintain their independent ways, and visitors will find a strange mixture of French and Italian culture that is both and yet neither. Corsica boasts local beers and soft drinks not found anywhere else, and unique cuisine including locally-produced chestnuts, olive oil, pastries, and boar meat.
Become our Corsica Travel Expert
We are looking for contributors for our Corsica travel guide. If you are a local, a regular traveller to Corsica or a travel professional with time to contribute and answer occasional forum questions, please contact us.