Normandy Travel Guide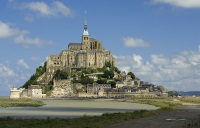 Mont Saint-Michel © BeBo86
Normandy, in northwest France, has a proud and independent history and was one of the major powers of medieval Europe. Colonised by the Vikings from the 9th century, it was home to William the Conqueror, who famously defeated King Harold at the Battle of Hastings, and in 1066 established the great Norman aristocratic line that remains prominent in England today. This historic event is commemorated in the region's most popular attraction, the marvellous Bayeux Tapestry. It was here, too, in Rouen, that valiant Joan of Arc was burned at the stake; and at the chic seaside resort of Deauville that Coco Chanel started a fashion renaissance by opening her first boutique. The province is, however, probably best known for the Normandy landings of 1944 when Britain and the US began their liberation of France and Europe from Hitler's Germany.
Today Normandy is overwhelmingly agricultural and is appreciated by the gastronomically fastidious French for its excellent produce, particularly dairy and seafood. The region is also known, not for its wine, but for its ciders and apple brandy. Fighting in WWII destroyed many of the great medieval towns, but a few treasures still remain and make a trip to Normandy worthwhile, including the Abbey of Bec, Chateau d'Etelan, and the magnificent Mont Saint-Michel Abbey.
Become our Normandy Travel Expert
We are looking for contributors for our Normandy travel guide. If you are a local, a regular traveller to Normandy or a travel professional with time to contribute and answer occasional forum questions, please contact us.